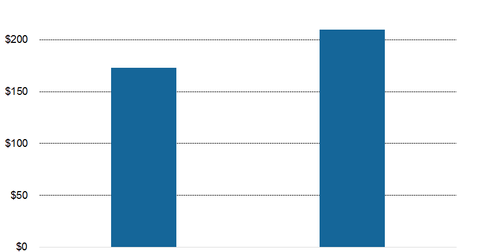 Key Driver for Juniper: Increasing Demand for Network Solutions
By Adam Rogers

Updated
Growth opportunities in the networking segment
Juniper Networks (JNPR) claims to be the most trusted technology provider by helping customers solve networking problems. According to Juniper, it has immense opportunity and potential in the networking space. Rami Rahim, Juniper's CEO (chief executive officer), said, "Today there are about 700 million broadband users worldwide and an estimated 940 million by the end of 2018. This is driving an insatiable need for network capacity. To illustrate this point, Netflix recently announced it is now serving 192 countries up from 60-plus. Imagine satisfying this increasing worldwide demand for rapid low-latency and high-volume communication of information."
Article continues below advertisement
Juniper believes satisfying the worldwide demand will require highly automated networking solutions and cutting edge technology. In 2016, Juniper plans to accelerate its existing strategy by capturing inflection points in the industry. To achieve this, the company will focus on product innovation, partnerships, and acquisitions that complement its R&D (research and development) strategy.
Data center, a key driver for Juniper
Juniper expects growth opportunities in the data center interconnect and metro Ethernet markets. Customers in these markets are considering new architectural approaches due to exponential traffic growth. The above graph shows that Juniper's switching revenue rose 21% YoY (year-over-year) in 4Q15, driven by growth in data centers.
Earlier this year, Juniper announced its intent to acquire optical equipment provider BTI Systems. The allegiance of Juniper's data center switching and IP (Internet Protocol) routing platform with BTI's cloud and metro networks and systems and software is expected to transform the packet optical networking segment. This acquisition will also provide customers with open-software-driven solutions that are automated, cost-efficient, and highly programmable.
Juniper accounts for 4.3% of the iShares North American Tech-Multimedia Networking ETF (IGN). The other top holdings of this ETF include Cisco Systems (CSCO) and Harris (HRS), which constitute 8.6% and 9.1%, respectively, of IGN.
In the next part of this series, we'll see how the shift to cloud has given Juniper an infrastructure opportunity.