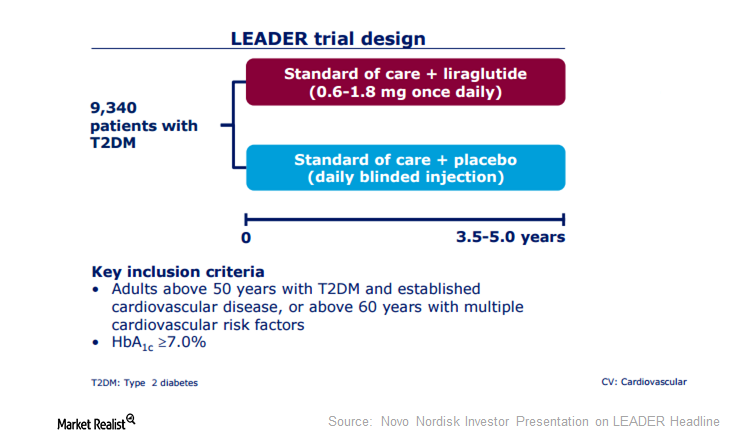 Why Investors Are Cheering the Results of Novo's Victoza Trials
By Jillian Dabney

Mar. 8 2016, Updated 12:37 p.m. ET
Update on Novo's Victoza trials
On March 4, 2016, Novo Nordisk (NVO) announced the top-line results of its Leader trial. The trial was initiated in September 2010 to evaluate cardiovascular safety and efficacy of Victoza. For detailed information on Victoza, please refer to, How Did Novo's Victoza Become a Leading Diabetes Drug?
According to top-line results, Victoza proved to be superior to existing treatments in reducing cardiovascular risks in patients with type two diabetes. The safety was evaluated over a period of five years in diabetic patients who were at high risk of major adverse cardiovascular events. Eli Lilly's (LLY) Jardiance was the first approved drug of the kind.
Article continues below advertisement
Trial results
The trial included 9,340 patients with type two diabetes. The graph above highlights the inclusion criteria for the study. Patients were over 50 years of age and were suffering from cardiovascular disease along with type two diabetes. Patients above 60 years of age had multiple cardiovascular risk factors.
Type two diabetes is the most common type of diabetes, and it accounts for 90%–95% of the total diabetes cases. Usually, type two diabetes is accompanied by obesity, high blood pressure, and high cholesterol levels. The presence of these ailments increases the risk of heart disease by two to four times in such patients. Drugs like Victoza improve the care of diabetic patients.
In the diabetes space, Novo competes with Merck (MRK), AstraZeneca (AZN), Eli Lilly, and Sanofi (SNY). The success of Novo's trial may boost Victoza sales.
What is HbA1c?
The Leader study involved diabetic patients whose HbA1c was 7.0% or above. Normal levels for HbA1c are below 5.7%, whereas levels above 6.5% imply diabetes. As per the National Institute of Diabetes and Digestive and Kidney Diseases, "The A1C test is a blood test that provides information about a person's average levels of blood glucose, also called blood sugar, over the past 3 months. The A1C test is sometimes called the hemoglobin A1c, HbA1c, or glycohemoglobin test. The A1C test is the primary test used for diabetes management and diabetes research."
To diversify the risk of investing directly in Novo Nordisk, investors can look for options such as the PowerShares International Dividend Achievers Portfolio (PID). PID invests 0.49% of its total holdings in Novo Nordisk.