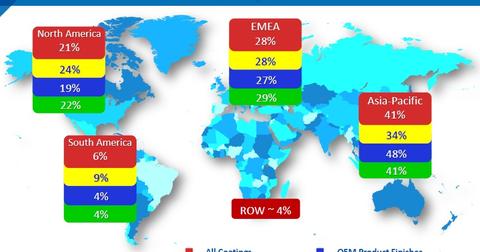 Introducing Three Coatings Industry Regional Markets
By Shannon Black

Updated
Asia-Pacific
Asia-Pacific is the largest geographical market for the coatings industry, followed by Europe and North America. As illustrated in the map below, at 41%, Asia-Pacific was also the fastest-growing region for the architectural coatings industry in 2014, achieving almost 100% and 50% more than the growth rates achieved in North America and EMEA (Europe, the Middle East, and Africa), respectively.
Due to its size and growth rate, the region's reaction to meltdowns in the coatings industry can thus not be understated. Still, growth trends in Asia-Pacific appear to be sticky, even though China is far from the steroid-induced growth rates it achieved leading up to 2012. (We'll explore why it will likely continue to grow at a faster clip for all specialty chemical (IYM) products in Part 19 of this series.)
Article continues below advertisement
North America
Meanwhile, growth in US housing markets is being driven by a strong economic recovery, the rebound in home prices, and lower interest rates. While not at its all-time high level, consumer confidence has increased, and so have employment rates, providing additional comfort to people interested in taking on mortgages.
As an indirect beneficiary, this uptick is likely to rub in on construction-based specialty chemicals (VAW) as well. The US has the highest per capita consumption market for paints. Therefore, there could be a larger growth in the paints category than the figures shown by housing starts. PPG Industries (PPG), Sherwin-Williams (SHW), and Valspar (VAL) are major players in the North American market.
Europe
The European paints market has faced considerable contraction since the 2008 recessions, but it's interesting to note that characteristics in the European market are not homogenous.
Western Europe, which has a PCC (per capita consumption) of eight liters has a mature distribution model and more quality sensitive. By contrast, Eastern Europe has a PCC of four liters and has a more price sensitive market and a distribution model that is still developing. Western Europe is made up of countries reeling from weak economic activity. To be sure, however, the overall outlook for the entire region continues to be flat.
In the next part, we'll focus on construction chemicals.