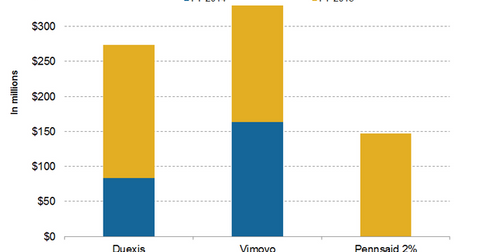 Inside the Performance of Horizon's Primary Care Division
By Jillian Dabney

Updated
Primary Care overview
Horizon Pharma's (HZNP) Primary Care division consists of the following three drugs:
Duexis
Vimovo
Pennsaid 2%
During fiscal 4Q15, this segment's sales rose by more than 125%. The growth of the division is primarily driven by volume rather than by price, and with the sale force expansion, the company would witness further sales growth in this segment.
Article continues below advertisement
Duexis
Duexis is used for pain management and is indicated particularly for pain associated with rheumatoid osteoarthritis and acute or chronic pain. The drug, which is a combination of ibuprofen and famotidine, earned $190.4 million for Horizon in fiscal 2015. Ibuprofen is a widely used NSAID (non-steroidal anti-inflammatory drugs), but the adverse effects of the drug include gastrointestinal ulcers. To overcome this, famotidine has been used in combination with the NSAID as a protectant with distinct advantages.
Vimovo
Horizon acquired the US rights of developing, manufacturing, and marketing Vimovo from AstraZeneca (AZN). A combination of naproxen and esomeprazole magnesium, Vimovo fetched $166.7 million for Horizon in fiscal 2015. Naproxen is a widely prescribed NSAID that accounted for 17 million prescriptions in the US in fiscal 2015.
Duexis and Vimovo compete with Pfizer's (PFE) Celebrex and Johnson & Johnson's (JNJ) Motrin. In the US, every year there are 100,000 hospitalizations and 16,500 deaths following serious gastrointestinal complications. This presents a significant opportunity for such combination drugs.
Pennsaid 2%
Pennsaid is a topical NSAID that contains diclofenac sodium and the powerful penetrating agent dimethyl sulfoxide. It is indicated for osteoarthritis of the knee and raked in $147 million for Horizon in fiscal 2015. The drug competes with Endo Pharmaceuticals' (ENDP) Voltaren Gel.
Investors should note, however, that as the share prices of pharma and biotechnology companies can be volatile, it's often safer to avoid direct exposure and choose ETFs like the iShares Nasdaq Biotechnology ETF (IBB). Horizon accounts for 0.53% of IBB total holdings.
Continue to the next part for a look at Horizon's lead orphan product.