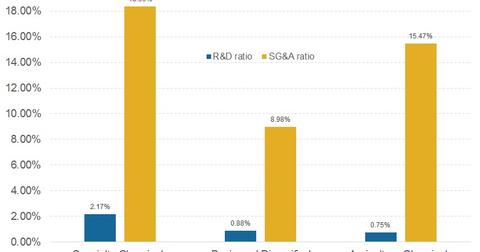 The Impact of Innovation and Customer Focus Costs on Specialty Chemicals
By Shannon Black

Updated
Incurring and personnel costs
The cost-side implications of having a high customer focus and innovating to build new products are twofold. First, a company has to set aside an additional amount of money for budgetary expenses related to R&D (research and development). This enables the company to create intangible assets such as brands, patents, or licenses, which can then be used to boost its bottom line, as products are now able to be sold at a premium.
Article continues below advertisement
Second, a high customer focus entails additional expenditures to account for costs related to building distribution networks and sales personnel. Customer relationships in this industry are sticky due to significant switching costs, and the next upstart generally has to overcome the established player's distribution network, which provides the established company with significant protection from competition.
As seen in the graph above, R&D and SG&A (selling, general, and administrative) expenses were twice as large for specialty chemicals in 2015 than they were for commodity chemicals for companies domiciled in the US with at least 50% of annual revenues derived from their respective industries.
The star-student
Consider the example of a company like Sherwin-Williams (SHW), which spends a negligible amount on R&D, as the company is already an established brand and the pace of innovation in its paints segment is often glacial. However, it spends a whopping 35% on SG&A expenses, which includes costs incurred in funding its retail stores and personnel expenses to manage distribution networks. It goes without saying that Sherwin-Williams is the number one player in architectural paintings.
Outliers
There were, of course, outliers in each industry in 2015, the most of which were among agriculture chemical (DBA) companies. Agriculture chemicals (MOO) could be called the hybrid of specialties and commodities, with the seed traits segment resembling characteristics of specialties and fertilizers resembling commodities. Herbicides and pesticides are somewhere in between. R&D expenses for companies developing seed traits were very high in 2015, with figures for Monsanto tipping 10%. However, such companies are few, since Monsanto (MON) and E.I. du Pont de Nemours (DD), or Dupont, account for over 70% of the seeds market.
Now let's examine returns in this capital-intensive industry.