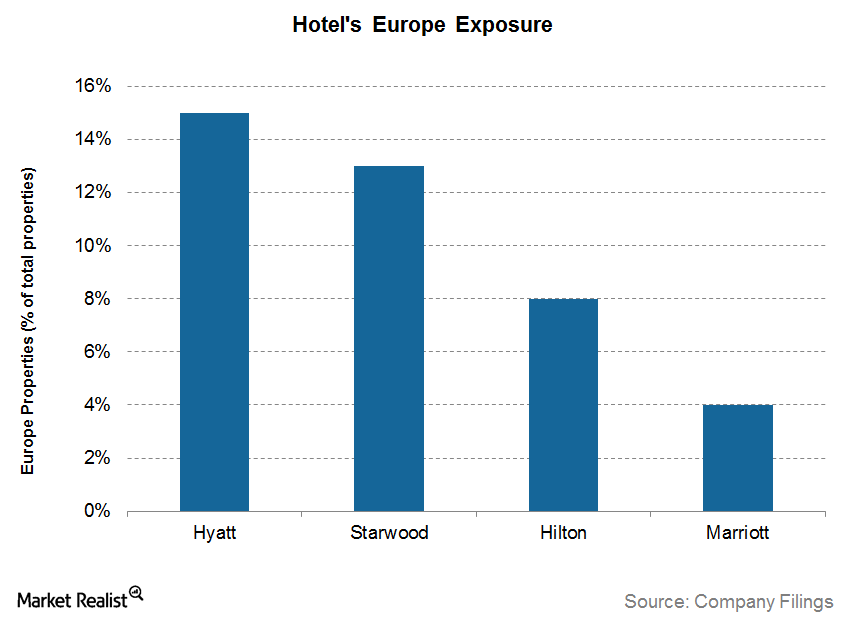 Which Hotels Will Be Impacted Most Due to the Terror Attack?
By Ally Schmidt

Dec. 4 2020, Updated 10:53 a.m. ET
Hotels impacted
Hotels with relatively large exposure to Europe will face the brunt of the terror attack in Brussels. European hotel chain Accor Group has 20 hotels in Brussels. It will be impacted the most. InterContinental has six hotels in Brussels. Europe forms 80% of Accor and 15% of InterContinental's revenue.
The major US hotel chains that will be impacted include Hyatt Hotels (H), Hilton Hotels (HLT), Starwood Hotels (HOT), and Marriott (MAR). It's important to note that 15% of Hyatt's properties, 13% of Starwood's properties, 8% of Hilton's properties, and 4% of Marriott's properties are based in Europe. However, Marriott has the highest exposure to Brussels with five properties. It's followed by Hilton with three properties.
Marriott forms ~2% of the NASDAQ-100 Ex-Technology Sector Index (QQXT).
Article continues below advertisement
Hotels in Paris and Turkey still haven't recovered
Hotels chains in Paris and Turkey still haven't completely recovered since their respective terrorist attacks. The revenue per available room has been contained. Hotels didn't lower room rates. The climate change summit COP21 eased some of the pressure on demand.
However, a weak economy and currency along with terror fears continue to put pressure on demand.
Outlook
Leisure demand will have a greater impact than business demand. Apart from Belgium, the impact on Europe is expected to be small. This was the case with the Paris and Turkey attacks.
Research from The Economist showed that terror attacks usually cause a short-term disruption to economic life. However, people tend to just postpone their travel plans rather than completely abandon them.
The impact on Belgium's lodging sector might be short-lived. The demand will likely recover after the initial shock and anxiety subside.