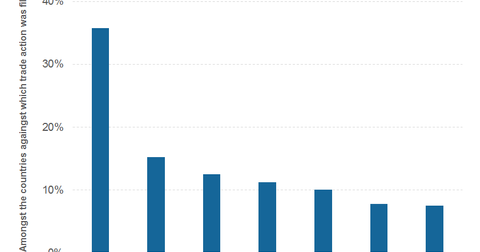 Why the Hot Rolled Steel Trade Case Might Not Be Very Effective
By Mohit Oberoi, CFA

Updated
Trade cases
Trade actions have been the key driver of US steel prices. The US has imposed preliminary duties on three key steel product categories: hot rolled coil (or HRC), cold rolled coil (or CRC), and corrosion-resistant steel products. Let's discuss these duties in detail.
Article continues below advertisement
Hot rolled
In the hot rolled coil sheet case, while prohibitive duties have been imposed on UK steel companies, other countries have been let off with much fewer duties. Last year, Korean (EWY) steel companies accounted for ~36% of total HRC imports among the companies that had trade actions filed against them. However, Korean companies including POSCO (PKX) have been slapped with total preliminary duties between 4% and 7.3%. These duties might not be enough to keep Korean HRC products away from the US market.
However, Brazil, which was the second largest HRC exporter to the US last year, has been slapped with duties in excess of 37%. Japanese HRC imports will also see total duties between 6.8% and 11.3%. Japan was the third-largest HRC exporter to the US last year, accounting for ~15% of total imports.
The Netherlands and Turkey, which were the fourth and fifth largest HRC exporters to the US last year, have also been slapped with much smaller duties ranging between 5% and 7%.
In fiscal 2015, HRC accounted for 31% of U.S. Steel's (X) flat-rolled shipments. Nucor (NUE) has a high exposure to HRC and 60% of the company's sheet shipments comprise of HRC. However, AK Steel (AKS) has a lower HRC exposure and the hot rolled segment accounted for only 13.7% of its consolidated shipments in 4Q15.
The bottom line
The bottom line is that Korea, which accounted for the lion's share of HRC imports last year, has been let off with much smaller duties. This could mean that HRC supply lines from imports might not be affected much. Apparently, this is showing in the HRC-CRC spread as we'll explore in the coming parts of the series. But before that, let's look at the duties imposed on the corrosion-resistant steel products.