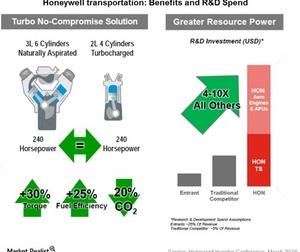 Honeywell Transportation: The Low-Altitude Aviation Department
By Shannon Black

Updated
Aerospace segment
Honeywell (HON) recently consolidated its Transportation and Aerospace (ITA) segments into a single business unit to drive synergies in technology and resources used in the segments' shared business models. We will discuss the various aspects of the company's Transportation business in this part. Honeywell Transportation contributed to 7.7% of the company's total sales in 2015.
Article continues below advertisement
Why are turbochargers taking charge of your automobiles?
The Transportation segment produces turbochargers for passenger and commercial vehicles. A turbocharger is essentially a pumping unit that boosts engine power by forcing more air into the engine cylinders. Although a turbocharger worsens fuel economy for the same engine size, it can achieve higher fuel efficiency for the same power on a lighter engine, as shown in the above illustration.
The lighter the engine, the better the fuel economy, making turbo adoption a more attractive option to meet stringent fuel economy standards looming across major regional markets. Honeywell expects turbocharger adoption in cars to increase from the current 33% to approximately 47% in 2020.
Competitive advantage: Leveraging Honeywell's R&D
Having a turbocharger in your car is like having a miniature jet engine. As shown in the above illustration, Honeywell considers the R&D spend on jet engines to be accretive to the Transportation segment as it transfers knowledge on leading performance technologies, including high-temperature materials, aerodynamics, bearings, and seals. These can be adapted to technologies desired by customers in the automotive industry (FSAVX).
Even without the jet advantage, Honeywell's R&D spend is considerably higher than its competitors and has a history of consistently releasing new, successful products. In the recently held 2016 Geneva Motor Show, General Motors' (GM) Opel Vauxhall Astra won the Car of the Year. The Vauxhall Astra has a Honeywell turbocharger in its diesel and gas versions.
BorgWarner (BWA) and Cummins (CMI) are major competitors for Honeywell in the turbo space.