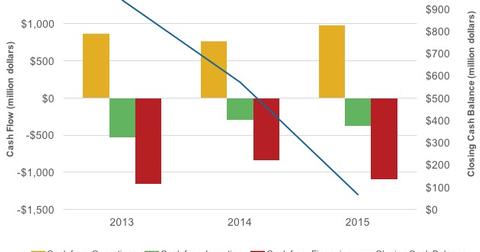 Why Have HollyFrontier's Cash Reserves Fallen Steeply?
By Maitali Ramkumar

Updated
HollyFrontier's cash flow from operations, investing, and financing
In 2015, HollyFrontier's (HFC) cash flow from operations stood at $980 million, rising from $759 million in 2014. HFC's cash outflow from investing stood at $382 million in 2015 compared to $292 million in 2014.
HFC's cash flow from financing mainly consists of dividend and share buybacks. HFC's current dividend yield stands at 3.7%. HFC's peer Western Refining's (WNR) dividend yield stands at 5.1%. Comparatively, PBF Energy (PBF) and Delek US Holdings (DK) have higher dividend yields of 3.7% and 4.0%, respectively. If you are looking for exposure to global energy stocks, you can consider Vanguard FTSE All-World ex-US Fund (VEU).
Article continues below advertisement
Analyzing HFC's cash flow strategy
In 2015, HollyFrontier generated $980 million in cash from operations but had a cash outflow of $382 million in the form of investing activities and $1,099 million in the form of financing activities (mainly consisting of dividends and share buybacks), amounting to $1,481 million of cash outflow.
How did the company make up for the difference of $501 million in cash flows?
Due to capex, dividend payments, and increasing share buybacks, the company had to cut down its cash reserves. HFC's cash balance fell from $568 million in 2014 to $67 million in 2015. With this, HFC had hit rock-bottom cash levels. To refill the same, HFC has recently raised another $250 million via a bond issue.
How long can HFC keep boosting leverage?
HollyFrontier (HFC) cannot perpetually keep on boosting its leverage. As pointed out in the previous part regarding leverage, ascertaining the right limit will be imperative for the company to maintain its financial stability. Going forward, higher volumes will likely improve cash flow from operations, but the degree of the improvement will mainly depend on the refining margin direction.
If refining margins fall, it will weigh on HollyFrontier's earnings and cash flow from operations. And if cash flows don't improve, HollyFrontier will likely not be able to maintain its current levels of capex and shareholder returns.