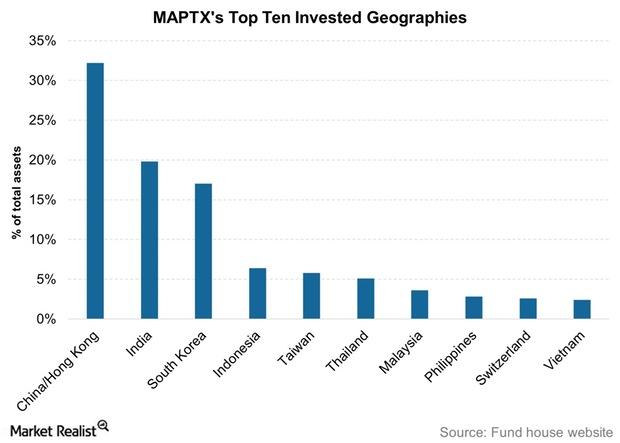 Helpful Facts about MAPTX
By David Ashworth

Mar. 8 2016, Updated 8:08 a.m. ET
Matthews Pacific Tiger Fund
The Matthews Pacific Tiger Fund (MAPTX) aims to invest 80% of its net assets in "common and preferred stocks of companies located in Asia Ex Japan, which consists of all countries and markets in Asia excluding Japan, but including all other developed, emerging, and frontier countries and markets in the Asian region." The fund is managed by Sharat Shroff and Rahul Gupta.
For picking stocks for the portfolio, fund managers look at the following aspects: balance sheet information, number of employees, size and stability of cash flow, management depth, adaptability and integrity, product lines, marketing strategies, corporate governance, and financial health.
Article continues below advertisement
Portfolio composition
As stated in the fund's literature, financials were the single-largest sectoral holding of the fund and formed 27.5% of the portfolio as of December 2015. Consumer staples and information technology, in that order, were second and third. Compared to the MSCI AC Asia ex Japan Index, the fund is overweight in the consumer staples, healthcare, and utilities sectors. On the other hand, it's underweight in the information technology and financials sectors, among others. The fund is not invested in the energy sector.
Stocks from China and Hong Kong form a combined 32.2% of the fund's assets. China and Hong Kong are the largest invested geographies. Stocks from India follow, making up nearly one-fifth of the fund's assets. South Korea, Indonesia, and Taiwan round off the top five invested geographies. Compared to the index mentioned above, the fund is overweight in Indian, Indonesian, and Malaysian equities, among others, while being underweight in Chinese, Hong Kong, Taiwanese, and Singaporean equities.
Baidu (BIDU), Lenovo Group (LNVGY), Yum! Brands (YUM), Cognizant Technology Solutions (CTSH), and HDFC Bank (HDB) were among the fund's 62 holdings as of December's end 2015. As of January 2016, the fund was managing assets worth $6.3 billion, making it the largest fund focused on the region.
Fee and minimums
MAPTX has been in existence since September 1994 and has an expense ratio of 1.1%. You require a minimum of $2,500 to invest in this fund, and the minimum limit for additional investment is $100.
In the next article, we'll look at some of the key metrics of the fund's performance in the one-year period ended February 2016.