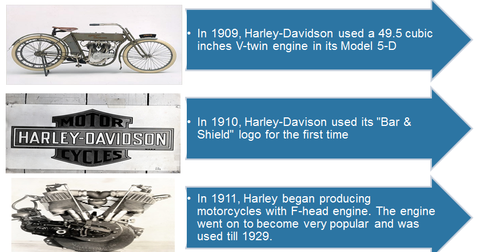 How Did Harley-Davidson Expand Its Business in the Early Days?
By Jitendra Parashar

Updated
Business expansion
Harley-Davidson is one of the oldest automakers (FXD) in the world. Previously, we looked at the early history of the company. Now, let's move ahead by looking at some other milestones from the company's history and look at how Harley-Davidson expanded its presence in the motorcycle market.
Article continues below advertisement
Harley-Davidson V-twin engine
The V-twin engine is a type of internal combustion engine. In 1909, Harley-Davidson used a 49.5-cubic-inch V-twin engine in its Model 5-D. In the same year, Harley-Davidson also began producing spare parts for its motorcycles.
F-head engine
In 1912, the company introduced a variation of the V-twin engine in the form of the F-head engine, where a mechanically operated intake or inlet valve is placed over the exhaust valve. At the same time, Harley-Davidson (HOG) also produced motorcycles with F-head single engines.
The performance of F-head engines was better than the atmospheric inlet valve engines the company used previously. The success of the F-head engine helped Harley-Davidson to grow faster in the coming years. These F-head engine types were used by Harley-Davidson in its motorcycles until 1929.
To date, Harley-Davidson is known to invent innovative motorcycle engines, which allows the company to incorporate new technology in its motorcycles.
Entry in the international market
In 1912, the company built a larger factory with a separate parts and accessories department. This was the first time that Harley-Davidson sold its bikes outside the US market. In the same year, the company began to import its products to Japan. Now, the Harley-Davidson brand enjoys international popularity.
Note that in 1913, Ford (F) began producing its mass targeted vehicle "Model T" at a larger scale with the help of a moving assembly line. The largest US automaker, General Motors (GM), was incorporated in 1908. Japanese automaker Honda (HMC) began producing motorcycles in 1955.
Continue to the next article to read about the association of Harley-Davidson with motorcycle sports.