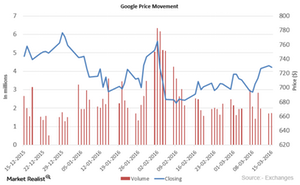 How Is Google X's Self-Driving Car Project Performing?
By Parker Thomas

Updated
Google Car has covered 1.5 million miles
Alphabet's (GOOG) Google X unit aims to develop an autonomous car that does not require any human intervention and at the same time, maintains safety on the road. The Google Car has covered a distance of 1.5 million miles in autonomous mode, according to the Wall Street Journal. The company has prototypes on streets in two cities that it leverages to make the car identify routes while driving. However, the Google Car still requires a human behind the wheel.
Article continues below advertisement
How Google justifies the incident
In March 2015, the self-driving car registered its first accident when it hit a bus in Mountain View, California, while in autonomous mode. The incident indicates Google Car is still in its development stage to run independently without causing injuries to others.
However, in its monthly report, Google (GOOGL) noted, "Our test driver, who had been watching the bus in the mirror, also expected the bus to slow or stop. And we can imagine the bus driver assumed we were going to stay put. Unfortunately, all these assumptions led us to the same spot in the lane at the same time. This type of misunderstanding happens between human drivers on the road every day."
Other automakers such as Tesla (TSLA), Bosch GmbH, and Delphi Automotive are also engaged in the development of autonomous vehicles. They created a report that reveals the causes of disengagements with the vehicle, which involves "poor roadway lane markings, bright sunlight blinding cameras, construction zones and erratic behaviour from other drivers."
In the subsequent articles, we will discuss the Google's efforts toward making its search business more reliable and later on, we will move on to the latest updates.
Google (GOOG) and Amazon (AMZN) constitute 8.7% and 9.1%, respectively, of the PowerShares NASDAQ Internet Portfolio ETF (PNQI)