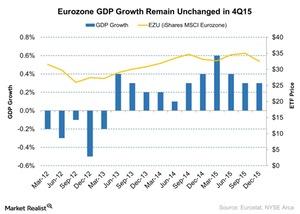 Why the Eurozone GDP Didn't Change in 4Q15
By Sarah Sands

Updated
Eurozone GDP at 0.3% for 4Q15
The Eurozone (HEDJ) GDP (gross domestic product) remained unchanged at 0.3% for the fourth quarter of 2015. GDP for the third quarter of 2015 was also 0.3%. This figure indicates that there was no increase in business activity in terms of goods and services during the fourth quarter of 2015. It also indicates there was no increase in demand for goods and services.
The Eurozone's (EZU) (FEZ) main problem is that it's struggling with deflation. The fall in energy and commodity prices is the major factor behind deflation. However, the recent recovery in commodity and energy prices may provide some positive impact on the economy. Recent steps taken by ECB (European Central Bank) president Mario Draghi may help boost growth and bring inflation into the economy.
Article continues below advertisement
Draghi's QE program for Eurozone growth
On March 10, 2016, the ECB cut its deposit rate, moving it deeper into negative territory, from -0.3% to -0.4%. It charged banks more to keep their money with the ECB. It was in line with Market expectations. However, it surprised the Market by cutting its other two interest rates.
The refinancing rate was cut by 5 basis points to 0%. The marginal lending rate was cut to 0.25% from 0.3%. The marginal rate is the rate used by banks to borrow from the ECB overnight. The ECB increased the monthly asset buying program to 80 billion euros from 60 billion euros. This was more than the Market expected. It expected about 70 billion euros.
The higher level provided by Draghi indicated that the economy might be slowing at a faster pace than the expected level. There might be more downside risk for the economy. Draghi is doing more on the QE (quantitative easing) side, because QE wasn't very effective in the past. All the major indexes fell on March 10, 2016, due to the speculation. Major stocks of the Eurozone such as SAP (SAP), Siemens (SIEGY), and Volkswagen (VLKAY) fell 0.35%, 0.28%, and 0.2%, respectively, that day.
In the next part, we'll see what France's industrial production indicated for January 2016.