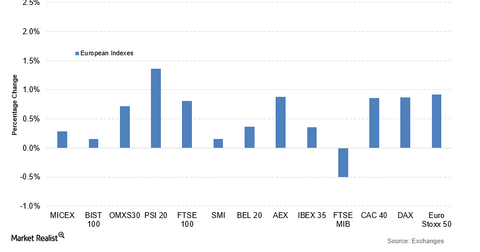 European Indexes: Broadly Positive ahead of the US NFP Release
By David Meyer

Updated
Why did all European indexes rise except Italy?
Critical European indexes (VGK) were trading with a positive bias on March 4, 2016, at 7:00 AM EST. The Euro Stoxx 50 rose by 0.92%. The DAX and France's CAC 40 traded higher by 0.87% and 0.86%, respectively. The leader among the major European indexes was the Portuguese PSI 20. It rose by 1.36%.
There was also a positive sentiment in the non-Eurozone markets. The United Kingdom's (EWU) FTSE 100 and Sweden's OMX Stockholm 30 rose by 0.81% and 0.72%, respectively. Investors seemed to be cautious ahead of the US non-farm payroll release. If the non-farm payrolls come out on a strong note, it would increase the expectations of a rate hike by the Fed in the March meeting.
The Italian (EWI) index FTSE MIB was the only major index trading negative. The Italian GDP (gross domestic product) came out below the forecasts. The index fell by 0.50%.
Article continues below advertisement
Italian GDP released below expectations
Istat published the Italian quarterly GDP figures. The fourth quarter saw a rise of 0.1%. This was below the rise of 0.2% the previous quarter. The report indicated that exports rose by 1.3% and imports rose by 1.0%. The gross fixed capital formation rose by 0.8% while the final consumption expenditure rose by 0.3%.
Eurozone retail PMI
Markit published the Eurozone retail PMI (purchasing managers' index) for February on March 4, 2016. The report suggested that retail sales remained broadly stable. This ended nearly a quarter of decline. The retail PMI remained stable at 50.1. It was mainly due to the rise in the German (EWG) retail PMI. It came out at 52.5. The rise in the German retail PMI was partially offset by the fall in other major Eurozone countries. The French (EWQ) PMI contracted to a two-month low of 48.1. The Italian PMI was slightly better at 49.4.