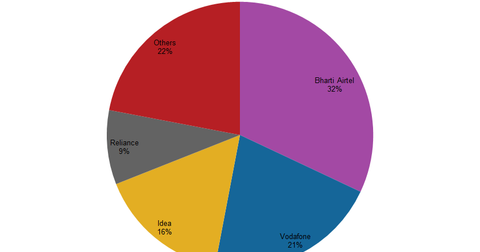 Ericsson and Ozone to Provide Small Cell as a Service to Reliance
By Adam Rogers

Updated
Reliance can utilize existing Ericsson/Ozone Wi-Fi infrastructure
Last week, India's (INDA) telecom giant Reliance Communications became the first mobile operator in the country to join the Ozone Networks and Ericsson's (ERIC) "Small Cell as a Service" carrier-grade Wi-Fi network.
Reliance Communications can now utilize the existing Ericsson/Ozone Wi-Fi infrastructure and launch Wi-Fi services for a "seamless end-user experience using the carrier-grade small cell network." By leveraging Ericsson's established market presence and reach, Reliance will also be able to offer Wi-Fi services with a faster go-to-market approach, whereas Ozone and Ericsson will benefit from additional utilization of their Wi-Fi infrastructure.
Article continues below advertisement
Partnerships will help to meet growing customer expectations
The Chief Commercial Officer of Reliance Communications, Suresh Rangachar, stated that growth in data usage is driven by the surge in mobile connectivity and smartphone uptake. This partnership will enable Reliance to meet the ever-growing customer expectations in "ultra-dense environments through data offload to a country-wide carrier-grade Wi-Fi network."
Jean-Claude Geha, head of managed services at Ericsson, said, "We are pleased to expand our partnership with Reliance Communications with this new managed services agreement. Together with Ozone India, we are realizing our vision of providing a neutral, shared Wi-Fi infrastructure. Ericsson supports our customers' targets of new revenues and subscribers throughout indoor venues and hot spots with the Small Cell as a Service model. Ericsson's Small Cell as a Service supports all technologies, from MuLTEfire with the Ericsson Dot solution to Cisco's Wi-Fi solution."
Ericsson accounts for 1.1% of the PowerShares BLDR Europe 100 ADR Index Fund (ADRU). The other top holdings of this fund include Novartis (NVS) with a weight of 8%, HSBC Holdings (HSBC) with a weight of 4.9%, and BP (BP) with a weight of 3.8%.