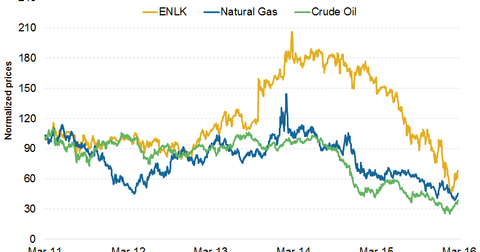 EnLink Midstream's Commodity Price Exposure: Key for Investors
By Kurt Gallon

Updated
ENLK's commodity price exposure
The earnings of midstream companies, including large ones such as Energy Transfer Partners (ETP) and Enterprise Products Partners (EPD) and small ones such as EnLink Midstream Partners (ENLK) and Crestwood Equity Partners (CEQP), are believed to not have much direct commodity price exposure.
The correlation between ENLK's stock price and crude oil's price (USO) has resulted in a correlation coefficient of 0.15 over the past five years, while natural gas (UNG) and ENLK have a correlation coefficient of 0.50 for the same period.
However, the correlations between ENLK and the two commodities have risen to 0.81x and 0.77x, respectively, during the last year, when energy prices were seeing a rout. A correlation coefficient close to one can indicate a strong relation between two variables.
Article continues below advertisement
ENLK's indirect commodity exposure
Midstream companies are indirectly exposed to commodity prices through their production levels. If crude oil and natural gas prices continue to stay low, upstream producers could cut production or even go bankrupt, which could result in lower throughput volumes, lower earnings, and higher counterparty risk.
According to Michael Garberding, EnLink Midstream's chief financial officer, "Around 95% of our gross operating margin comes from fee-based contracts. Volumetric risk related to commodity impacts on existing customer's drilling plans. More than 75% of our gross operating margin from the gas business unit is supported by contracts with minimum volume guarantees or firm commitments."
However, in the current low price environment, even MLPs' contracts may not be safe. For more details, read Sabine Ruling: Why Did MLPs Fall 6.1% on March 8?