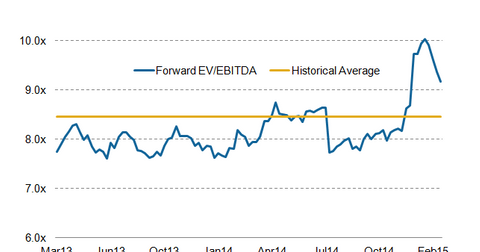 Could DTE Energy's Recent Climb Make It Too Expensive?
By Vineet Kulkarni

Updated
Valuation
Almost all the utilities have rallied this year, which resulted in a surge in valuations. So how are these utilities valued after their steep climb? DTE Energy (DTE) is trading at an EV-to-EBITDA (enterprise value to earnings before interest, tax, depreciation, and amortization) multiple of 11.5x as of March 29, 2016.
EV-to-EBITDA ratio indicates whether the stock is undervalued or overvalued, irrespective of its capital structure. EV is the combination of a company's debt and market capitalization minus its cash holdings.
The utility sector's average EV-to-EBITDA ratio is 10.6x. CMS Energy's (CMS) ratio is 11x, and SCANA's (SCG) is 11x.
Article continues below advertisement
The graph above shows the forward EV-to-EBITDA ratio of DTE Energy against its three-year historical average. Its historical EV-to-EBITDA comes near 8.5x. The sudden surge in DTE's forward multiple can be explained by DTE's rally early this year. The rally was in line with the utility sector's (IDU) rally that was triggered after the FOMC's January meeting. However, DTE outperformed the utilities. We'll look at this in further detail in the next part of this series.
Forward EV-to-EBITDA
DTE Energy is trading at a forward multiple of 11.1x as of March 29, 2016. DTE's slightly lower forward multiple indicates expectations of higher EBITDA for 2016. CMS Energy is currently trading at a forward EV-to EBITDA valuation of 10x.
Forward EV-to-EBITDA is the ratio that considers current enterprise value and estimates of EBITDA for the next 12 months. As for DTE's other peers, Edison International's (EIX) forward EV-to-EBITDA is 7.4x, and Pacific Gas and Electric's (PCG) is 7x. These are lower than their respective current multiples. It suggests expectations of higher EBITDA for these companies in 2016.