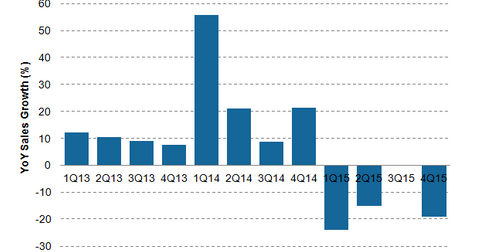 Why Is DTE Energy Expecting Better Sales This Year?
By Vineet Kulkarni

Mar. 30 2016, Published 1:08 p.m. ET
DTE Energy's sales
Power distribution, the core business of DTE Energy (DTE), has been witnessing very minimal growth over the last few years. Growth from its non-utility business operations surpassed the growth rate of its core business in the last couple of quarters.
Weather has a very dominant impact on electric utilities' (FXU) operations. The Midwest and Southern regions of the United States experienced mild weather conditions in 2015, which pulled down the sales of utilities operating there. DTE Energy's sales fell 16% in 2015 compared to 2014.
Article continues below advertisement
Sales drivers
Weather and customer growth impacted DTE Energy's sales in 2015. DTE experienced relatively flat to negative load growth that year, influenced by milder weather. Lower sales from its residential customers were partially offset by sales from its commercial customers. DTE Energy's electric demand is vulnerable to the steel and auto sectors.
Sales from DTE's non-utility business also reported a fall in 2015 compared to 2014 due to irregular energy demand. But it's growing rapidly considering the long-term patterns. In 2015, non-utility operations contributed nearly 40% to DTE's operating revenues. This is expected to increase due to DTE's aggressive focus on its midstream segment. However, the pipeline growth depends on regulatory approvals and contracts for its marker NEXUS pipeline that it plans to build with Spectra Energy (SE).
Dominion Resources (D) and Sempra Energy are also tapping growth opportunities in the gas pipeline domain. Negligible expected growth in the electric business is forcing utilities (IDU) to come out of the traditional energy operating approach and look for better, innovative, fast-growing energy portfolios. DTE's NEXUS pipeline is expected to be an offshoot of that effort.