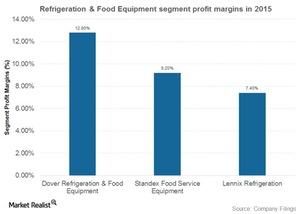 Dover Refrigeration: Leader of the Pack?
By Shannon Black

Nov. 20 2020, Updated 4:47 p.m. ET
The financial big picture of Dover Refrigeration
The Refrigeration and Food Equipment segment contributed 26.4%, 24.8%, and 24.9% of total Dover Corporation (DOV) sales in 2013, 2014, and 2015, respectively. Compared to the prior year, Refrigeration sales were lower by $190 million due to organic declines of 7.8% in 2015.
Dover lost a part of its business with retail (XRT) giant Walmart (WMT), based on a pricing decision last year. The measured impact on 2015 revenues due to the loss of Walmart business was close to $100 million. A major portion of organic declines was attributable to this loss.
The company projected Walmart revenues to be even lower using 2015 sales comparisons. Profit margins have declined from 14.2% in 2013 to 12.8% in 2015, highlighting the increased effect of competition from retail end markets (RTH) on product pricing.
The segment is expected to grow organically this year as orders were up by 20% relative to 2015. The book-to-bill ratio for the segment was 0.99.
Article continues below advertisement
Peer comparison: Better than the rest
As seen in the chart above, at 12.8%, Dover Corporation (DOV) seems to do much better in terms of margins compared to its peers. The margins for Standex International (SXI) were lower at 9.2%, dragged by low margins in the food equipment business and lower volumes in the comparatively high margin refrigeration unit.
Data for Hussman International, a private company recently acquired by Panasonic (PCRFY), wasn't available. Hussman had made $1.4 billion in revenues in 2015 and is Dover's most important competitor in the refrigerated display case market. Lennox International (LII) is an industry laggard, but it still enjoys better valuations due to its focused business, which we'll discuss in the final part of this series.