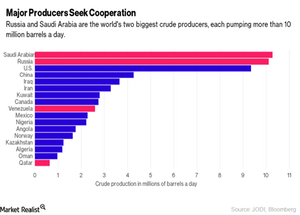 Crude Oil Prices Have Rallied almost 40% in the Past Month
By Gordon Kristopher

Updated
Crude oil drivers
Article continues below advertisement
Bullish drivers for crude oil prices 
The International Energy Agency (or IEA) reported that US crude oil production is expected to decline by 530,000 bpd in 2016. Similarly, the U.S. Energy Information Administration forecast that US crude oil production could slow down by 0.7 MMbpd (million barrels per day) in 2016 in comparison to 2015. The expectation of slowing US crude oil production could support crude oil prices. To learn more about US crude oil production, read US Crude Oil Production Remained Flat: What Does It Mean?
On March 16, Qatar's energy minister reported that Russia, Saudi Arabia, Venezuela, and Qatar will meet in Doha on April 17, 2016. The meeting will renew talks to stabilize the oil market. The statement added that 15 OPEC (Organization of the Petroleum Exporting Countries) and non-OPEC producers, accounting for about 73% of global crude oil production, are supporting this initiative. This meeting was initially scheduled for March 20, 2016. To learn more, read OPEC-Russia Meeting: Will It Stabilize the Crude Oil Market? On February 16, these countries decided to freeze the crude oil production at January 2016 levels. To learn more about the historic deal, read Why Crude Oil Prices Fell despite the OPEC and Non-OPEC Deal.
Latin American oil producers Venezuela, Colombia, Ecuador, and Mexico were scheduled to meet in Quito on March 11, 2016, to discuss stabilizing oil prices. However, this meeting was also delayed. It's expected to be scheduled for late March 2016 or early April due to scheduling difficulties. 
Impact on oil stocks and ETFs
The recent uptick in crude oil prices benefits crude oil producers like Halcón Resources (HK), Hess (HES), Sanchez Energy (SN), Energy XXI (EXXI), and Goodrich Petroleum (GDP). The ups and downs in oil and gas prices also affect ETFs like the ProShares Ultra Bloomberg Crude Oil ETF (UCO), the Vanguard Energy ETF (VDE), the Direxion Daily Energy Bull 3x Shares ETF (ERX), and the ProShares UltraShort Bloomberg Crude Oil ETF (SCO).
Read the next part of the series to know more about the bullish crude oil drivers.