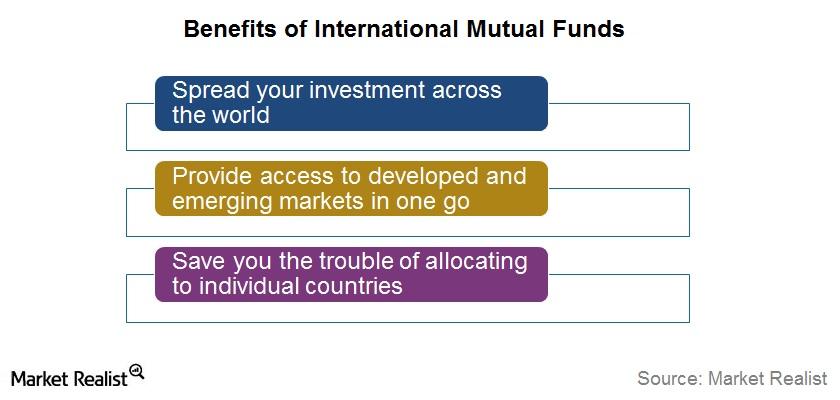 Why You Should Consider International Mutual Funds
By David Ashworth

Mar. 10 2016, Updated 11:14 a.m. ET
International mutual funds
International mutual funds (DISAX) (PINOX) help you invest in companies around the world. By investing in these funds, you get to invest in companies like Sony (SNE), Prudential Financial (PJH), and Sinopec Shanghai Petrochemical (SHI) in one go. They can relieve you of having to choose mutual funds focused on different geographies and deciding what portion of your investment portfolio to allocate to them. They also help you alleviate the worry of being overexposed to emerging and frontier markets.
Article continues below advertisement
These aspects sound great. But if most of them come true, why would you want to invest in any other type of equity mutual funds at all? The reason is that spreading your capital around the world without focusing on at least some markets could mean losing out on the much superior potential of a market that starts doing well. Also, international mutual funds generally find themselves in a tug-of-war with some markets pulling returns up while others are pushing them down.
Why international mutual funds?
Apart from the benefit of diversification, international mutual funds can be helpful during times when some markets are under stress but others are doing reasonably well. These funds, due to their diversification, can help you navigate these times of uncertainty better than focused mutual funds, especially if you don't track financial markets and macro developments closely.
The international mutual funds that we've chosen for review in this series invest everywhere except the US. There are a few that are invested in US equities, but the idea is to present those funds that help you diversify your equity investment beyond the US. This would also be useful to those investors who already have their desired level of exposure to US equities and do not want to duplicate their exposure by investing in funds that also invest in US stocks.
We'll first introduce a fund to you and then analyze its quantitative metrics like the Sharpe Ratio, information ratio, and volatility to present a picture of how each fund is doing. We'd like to state at the outset that investors should look at factors other than those presented in this analysis before arriving at their shortlist of funds. This analysis, we hope, will empower you to choose funds that are best suited to your requirements.