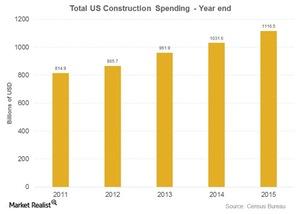 Why Are More Companies Using Construction Chemicals?
By Shannon Black

Mar. 2 2016, Updated 4:08 p.m. ET
What are construction chemicals?
Construction chemicals are specialty chemical (IYM) products that are used to enhance the functional properties of construction materials such as concrete. For example, a pillar that could hold 100 tons one century ago was ten times larger in cross-section than the ones we use now. And this is because we've learned how to develop and use the necessary construction chemicals. W.R. Grace & Company (GRA), HB Fuller (FUL), Cabot Corporation (CBT), and Ashland (ASH) are some leading specialty chemical (XLB) companies that specialize in construction chemicals.
Article continues below advertisement
What trends are construction chemicals riding on?
Due to the increasing importance of durability and constraints in infrastructures such as dams, bridges, and roads, the use of construction chemicals continues to rise. Demand is also being shaped by increasing consumer awareness, the need for aesthetic building structures, and cost savings achieved by contractors and other stakeholders.
Additionally, demand is likely to be driven by new construction in emerging economies, given rising urbanization and the increasing affordability of the burgeoning middle class. In some older economies, however, renovations will probably dominate as new constructions achieve saturation. Still, total construction spending, which accounts for spending toward new construction, is generally used an economic indicator to identify cyclical trends in this product segment.
Notably, there was a rapid spurt in the Chinese construction industry from 2009 to 2012. As a result, China became the largest market in 2012, surpassing regional blocs like North America and Western Europe. But as growth rates decline and the construction industry wobbles in China, growth is likely to return to normalized rates in the coming years.
Raw materials used in construction chemicals
Polymers are the most important ingredient in construction chemicals, and these are generally procured from big commodity chemical producer companies. Polymer prices are closely tied to swings in crude oil, and companies in construction chemicals are more likely to pass on the benefits or restraints arising from this volatility.
Continue to the next part for an even closer look at the various types of construction chemicals—and how understanding them matters to investors.