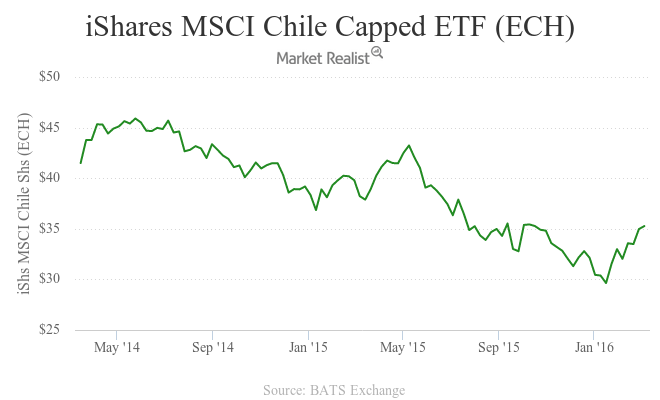 How China's Economic Slowdown Stands to Impact Chile
By Surbhi Jain

Mar. 29 2016, Updated 1:04 a.m. ET
Copper prices impact Chile's GDP
The price of copper is down from around $9,500 per metric ton in early 2011 to about $4,600 per metric ton, a fall of over 50%. The rapid fall in copper prices over the last five years has taken Chile, the world's largest copper producer, down with it.
With its large amount of copper resources, Chile alone accounts for over a third of global copper output. Copper accounts for about 55% of all Chilean exports and generates 20% of the government's revenues.
[marketrealist-chart id=1136106]
Article continues below advertisement
The economy's GDP (gross domestic product) growth rate has fallen from almost 10% in 2011 to 2.2% as of 3Q15. Investors in funds such as the iShares MSCI Chile Capped ETF (ECH), the Global X FTSE Andean 40 ETF (AND), and the Guggenheim Frontier Markets ETF (FRN) are wary of their holdings. These funds have exposures of around 94%, 49%, and 41%, respectively, to Chile's capital markets. ECH has fallen 46% over the past five years as of March 7, 2016.
How China impacts Chile's economy
The economic and industrial slowdown in China (FXI) (YINN)—which happens to be Chile's top export destination and accounts for about $19.3 billion worth of trade—is the primary reason for this emerging market's (EDC) downfall.
With economic growth backed by rapid industrialization, China has been the largest consumer of copper in the world (ACWI) (VEU). Developed markets (EFA) (VEA) such as the United States (SPY) and Europe (FEZ) also consume significant amounts of copper. The slowdown in these economies has affected the demand and the price for copper.
Falling exports have taken their toll on Chile's currency as well. The Chilean peso has depreciated by over 30% in the last three years. The currency's fall has hurt consumers' purchasing power while pushing the inflation rate to 4.8%, higher than the central bank's target range of 2%–4%.
However, the Latin American (ILF) economy is now in the process of redefining its trade relationships by diversifying beyond copper exports. The country signed the Trans-Pacific Partnership in February 2016, and its valuations just got attractive.