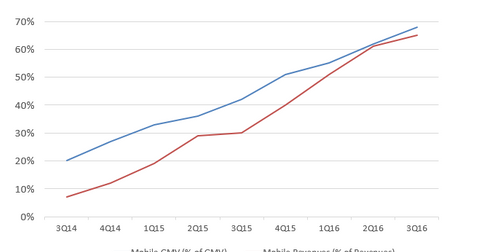 How China's Changing Economy Is Impacting Alibaba's Growth
By Parker Thomas

Updated
Investment-driven to consumer-driven
In August 2015, the Chinese economy faced an economic downturn and is going through a major shift from high growth to moderate growth. In its recent quarter, despite the economic turmoil, Alibaba (BABA) managed to increase its revenues in China (FXI) at a rate of 35% year-over-year (or YoY). China is shifting from an investment-driven economy to a more consumer-driven economy, as more and more people migrate to the urban center. Moreover, this shift is benefiting Alibaba's e-commerce business, as more than 400 million Chinese consumers are shopping on its platform.
Article continues below advertisement
According to the company, the majority of the increase in consumption came from two key segments. First, the growing middle class segment, which is concentrated primarily in urban areas, has improved its standard of living. As a result, this segment has shifted to purchasing high-quality products and services. Secondly, the younger generation has a strong desire for spending compared to their parents.
Alibaba's marketplace growth
The company's retail marketplaces, Taobao and Tmall, have had hundreds of millions of Chinese consumers browsing its product catalogue, comparing products, and sharing shopping experiences. Alibaba makes use of information generated from users' activities to produce meaningful insights that help determine their behavior and preferences towards choosing a product.
In 4Q15, Alibaba's revenues came in at $5.3 billion, an increase of 32%. The majority of the revenues were driven by two factors: increasing user engagement on mobile and successfully monetizing users' activities on its platform. Mobile generates good opportunities to create value for the merchants and advertisers by acquiring, managing, and serving target consumers. In December 2015, the company's annual active buyers came in at 407 million. Moreover, the company has made a net addition of 47 million mobile monthly active users (or MAUs) on a quarter-over-quarter basis to 393 million.
In the subsequent articles, we will discuss Alibaba's rural penetration, growth drivers, cross-border commerce, the online-to-offline channel, cloud expansion, and major investments and growth opportunities in different verticals.
eBay (EBAY) and Amazon (AMZN) constitute 0.32% and 2.2% of the iShares Russell 1000 Growth (IWF), respectively.