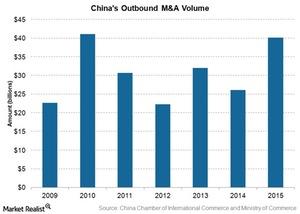 Why China Is the World Leader in Tech Mergers and Acquisitions
By Surbhi Jain

Mar. 28 2016, Updated 2:18 p.m. ET
Shift in focus: Mining to Dining
Over the past decade, China's focus has been expanding its infrastructure and manufacturing. Consequently, we've seen the country's acquisition spree for commodity resources, especially metals. In 2008, this emerging market's (EEM)(VWO) strategic investments in the mining sector alone totaled $30 billion. Over the next three years, this total averaged around $20 billion—despite the financial crisis.
Article continues below advertisement
Since 2013, however, this trend has changed. The Chinese government now allows companies to invest abroad. With the country's infrastructural capacity near exhaustion, the decline in manufacturing activity in the face of alternative low-cost manufacturing hubs, and the overall deflationary low demand conditions, China has moved past metals and mining to more consumer-centric industries like technology, machinery, food, and energy. Over the last five years, China's overseas food-related acquisitions have amounted to nearly $20 billion.
Leading the world in technology M&As
According to Dealogic's March 2016 "Statshot," China is the world's (VTI) leading acquiring nation for technology M&A (mergers and acquisitions). "For the first time, China is the top acquiring nation globally with $34.7bn in 2016 YTD (222 deals) and accounts for a record high volume share (49%). The US is the leading acquiring nation for activity with 493 deals ($21.2bn), up 10% on 2015 YTD (448 deals)," the report explains.
So far in 2016, China's outbound mergers and acquisitions have already reached about $68 billion. Even amid the global technology M&A advisor ranking for 2016, China International Capital (CICC) leads the race with $10.1 billion, followed by Morgan Stanley (MS) and Goldman Sachs (GS). That's already more than half of the 2015 total. PricewaterhouseCoopers predicts Chinese outbound M&A will grow 50% every year for some time.