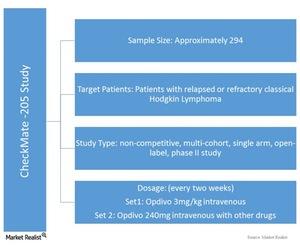 Checkmate-205: Studies Supporting Opdivo's Application
By Mike Benson

Apr. 1 2016, Updated 3:08 p.m. ET
Opdivo's Checkmate-205 study
Bristol-Myers Squibb's (BMY) Opdivo is a programmed death-1 (or PD-1) inhibitor that is already approved by the FDA and the European Medicines Agency (or EMA) for two cancer indications: melanoma and advanced non-small cell lung cancer (or NSCLC).
In its press release on March 30, 2016, the company announced that EMA has validated its application for Opdivo for the use in the treatment of classical Hodgkin lymphoma patients. This validation is based on the data of phase II study termed Checkmate-205.
Article continues below advertisement
Details about Checkmate-205 studies
According to the company's press releases, the Checkmate-205 study is the phase II study that compares safety and efficacy of Opdivo in the treatment of patients with relapsed or refractory classical Hodgkin lymphoma (or cHL). In this study, the estimated enrollments are around 294 patients who are already treated by autologous hematopoietic stem cell transplant and brentuximab vedotin treatment.
The primary completion date is estimated in May 2016 while the estimated study completion date is December 2018.
The study is non-competitive, multi-cohort, single-arm, open-label, phase II study of Nivolumab, the international non-proprietary name of Opdivo, for the patients with classical Hodgkin's Lymphoma.
In the first group referring to Cohorts A, B, and C, the patients are treated with Nivolumab intravenous injection 3 mg/kg every two weeks. For the second group referred to as Cohort D, the patients are treated with Nivolumab intravenous injection 240 mg every two weeks along with Doxorubicin 25 mg/m2, Vinblastine 6 mg/m2, and Dacarbazine 375 mg/m2.
Opdivo competes with drugs like Pfizer's (PFE) Inylta and Sutent, Bayer Pharma's Nexavar, Merck's (MRK) Keytruda, GlaxoSmithKline's (GSK) Mekinist and Tafinlar, and Roche's Zelboraf.
Investors can consider ETFs like the SPDR S&P Pharmaceuticals ETF (XPH), which holds ~4.4% of its total assets in Bristol-Myers Squibb, or the iShares US Pharmaceuticals ETF (IHE), which holds ~7.0% of its total assets in Bristol-Myers Squibb, in order to spread out the exposure.