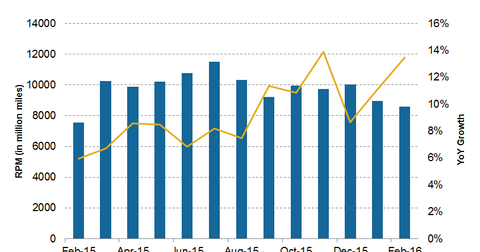 Can the Southwest Effect Help Grow Traffic?
By Ally Schmidt

Mar. 11 2016, Published 4:07 p.m. ET
Traffic growth lags capacity
For February 2016, Southwest Airlines (LUV) traffic grew by 13% year-over-year (or YoY). This is slightly lower than its capacity growth of 15% YoY for all of 2015. For January 2016, LUV saw an 11% YoY growth in its traffic.
This is higher than its legacy peers such as American Airlines (AAL), United Continental (UAL) and Delta Air Lines (DAL). This is not surprising, as LUV has been the fastest growing airline for decades. This was accomplished by offering flights in smaller cities where larger airlines were absent and then offering lower fares than its competitors in new markets. This phenomenon became known in the industry as the Southwest Effect. Ultra-low-cost carriers such as Spirit Airlines (SAVE) and Allegiant Travel (ALGT) now seem to have taken LUV's place.
However, LUV still has some edge over legacy carriers, such as its recent entry into international markets using the Southwest Effect.
An airline's traffic is measured by revenue passenger miles (or RPM). RPM is the number of passengers multiplied by the total distance traveled.
Southwest Airlines' (LUV) traffic for 2015 increased an average of 9% YoY, which is higher than its capacity growth of 7.3% YoY.
Article continues below advertisement
Growing global economy helps
Research by IATA (International Air Transport Association) has found that passenger travel demand closely tracks global economic growth.
For 2016, IMF (International Monetary Fund) forecasts world GDP (gross domestic product) to grow by 3.6%, adjusted for inflation. This is higher than the 3.1% growth estimated for 2015. On the back of this, IATA expects another good year for passenger travel with demand expected to grow by 6.9% compared to 6.7% growth projected for 2015.
Outlook
Past trends suggest that growing GDP along with lower airfares should provide LUV with the required boost in traffic.
Southwest Airlines forms 1% of the iShares Russell Mid-Cap Growth ETF (IWP).