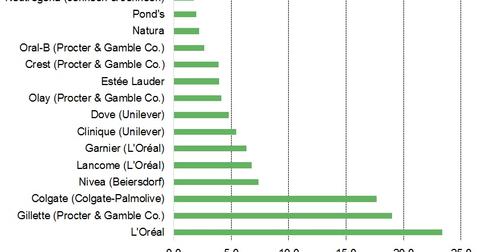 Can Innovation Improve 1Q16 CPG Companies' Brand Penetration?
By Penny Morgan

Updated
Intense competition should drive innovation
Due to intense competition, CPG (consumer packaged goods) companies' business growth depends on successful identification, development, and launches of innovative new products. During 4Q15, Procter & Gamble or P&G (PG) announced a continued focus on big opportunities by transforming its portfolio and strengthening innovation plans.
For example, P&G's Gillette's FlexBall innovation has been a catalyst for the growth of ProGlide cartridges, according to comments by CFO Jon Moeller. ProGlide cartridge sales grew by 18% last fiscal year, compared to the 7% decline in the overall male cartridge market. Recently, P&G's Gillette Filed a Lawsuit against Dollar Shave Club for violating intellectual property by selling its razors.
Article continues below advertisement
Regional innovation
Colgate-Palmolive's (CL) approach is to focus on regional innovation and product localization depending on the market. For example, in China, Colgate launched Colgate Naturals toothpaste with five variants as natural ingredients, which resonated very strongly with the consumers in China.
According to Kantar's Brand Footprint report, Colgate-Palmolive is the fastest-growing FMCG brand and attracted 19 million new shoppers in 2014. Downy (PG) and Dove (UL) attracted 11 million and 14 million new shoppers, respectively.
Unilever (UL) and Kimberly-Clark (KMB) also depend on innovation and pricing to capture opportunities in emerging markets. For example, Unilever is constantly changing the presentation, bottle size and pricing of its AXE male grooming product, depending on the geography.
In-the-flow platform and other innovations
Clorox's (CLX) strategy is to build on its in-the-flow growth platform. For example, Clorox shipped three new Clorox ScrubSingles items in December, Heavy Duty, Decide-A-Size, and Multi-Purpose, building on previously launched Clorox disinfecting wipes with Micro Scrubbers, which have done particularly well in the retail (XRT) market.
All these companies focus on in-store innovation in order to attract consumers as well as to meet retailer expectations. For example, P&G's introduction of hard tags makes Gillette much easier for consumers to shop. Clorox also aims to leverage platforms to allow for "blockbuster" introductions, followed by "sequels" in next quarter.
In the next part, we'll shift our focus to CPG companies' inventory levels and margins in 4Q15.