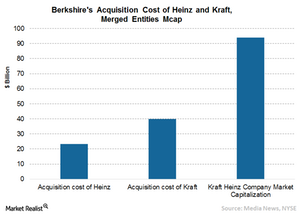 How Buffett Defended Berkshire's Partnership with 3G Capital
By Peter Barnes

Mar. 9 2016, Updated 8:07 a.m. ET
3G Capital: Aggressive cost-cutter
Berkshire Hathaway (BRK.A) teamed up with 3G Capital, a Brazil-based investment firm, to buy H.J. Heinz in 2013 and Kraft Foods in 2015. This action formed a new merged entity, Kraft Heinz Company (KHC). Buffett also helped to finance 3G Capital's merger of Burger King with Canadian (EWC) coffee and doughnut chain, Tim Hortons (THI).
This merger created Restaurant Brands International (QSR), a fast food powerhouse with a market capitalization of roughly $18 billion. Following these mergers and acquisitions, 3G Capital slashed thousands of jobs, including many top managers and around 7,000 Heinz staff within 18 months of taking over.
Article continues below advertisement
Critics pointed to what they called 3G Capital's ruthless policies. They questioned whether Berkshire's (BRK.B) business principles are compatible with 3G Capital, which is known as an aggressive cost-cutter that appoints its own executives and eliminates thousands of jobs from the companies it acquires.
Buffett's defense
In his letter to Berkshire Hathaway shareholders, Buffett strongly defended his partnership with 3G Capital. The fact that Buffett devoted 10% of the letter defending 3G Capital suggests he is still concerned about the criticism. Buffett noted that Berkshire has always craved efficiency, detests bureaucracy, and tends to buy lean companies while 3G looks for investments that need costs reduction.
Buffett said he would do more deals with 3G Capital because Jorge Paulo Lemann, the founding partner of 3G Capital, and his associates are much better partners. Buffett added that Berkshire shares a passion for building businesses with 3G Capital, although the two businesses follow different paths in chasing this goal.
In his letter, Buffett stated, "Their method, at which they have been extraordinarily successful, is to buy companies that offer an opportunity for eliminating many unnecessary costs and then—very promptly—to make the moves that will get the job done. Their actions significantly boost productivity, the all-important factor in America's economic growth over the past 240 years.
"Without more output of desired goods and services per working hour—that's the measure of productivity gains—an economy inevitably stagnates. At much of corporate America, truly major gains in productivity are possible, a fact offering opportunities to Jorge Paulo and his associates."