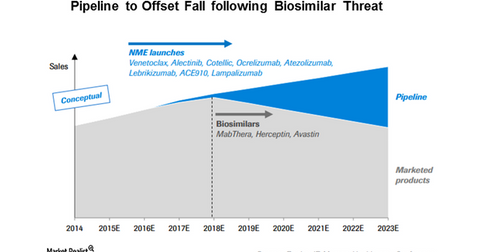 How Biosimilars Could Threaten Roche's Key Products
By Jillian Dabney

Updated
Roche exposed to biosimilar risk
Roche Holding (RHHBY) will be exposed to falling sales as soon as biosimilars for its lead drugs, Rituxan/MabThera, Avastin, Herceptin, are approved. These three drugs account for ~42.1% of Roche's total sales, and their corresponding biosimilars are in various phases of development. The company expects biosimilars for MabThera and Herceptin in the second half of 2017 in the Europe and later in the decade in the US.
Article continues below advertisement
What are biosimilars?
According to the US FDA (Food and Drug Administration), a biosimilar is "a biological product that is approved based on a showing that it is highly similar to an FDA-approved biological product, known as a reference product, and has no clinically meaningful differences in terms of safety and effectiveness from the reference product." The FDA has also clarified that "only minor differences in clinically inactive components are allowable in biosimilar products."
Unlike generic drugs, biosimilars are difficult to manufacture because these are generic versions of biologics. Hence, the market is not yet flooded with biosimilars, despite the fact that with the introduction of biosimilars, the cost for biologic treatment would come down significantly.
Biosimilar for Rituxan, Avastin, and Herceptin
Pfizer (PFE) is developing PF-06439535, which would be a potential biosimilar to Avastin. The molecule is in phase three of development for the indication of Non-Small Cell Lung Cancer. Similarly, the company is also developing PF-05280586, which would be a potential biosimilar to Rituxan/MabThera. In September 2015, Amgen (AMGN) and Allergan (AGN), also came up with positive Phase 3 data for ABP-215, a biosimilar for Avastin.
It's often risky, however, to invest directly in a pharmaceutical or biotech company because any news release about the success or failure of a company's particular drug can result in stock price volatility. That said, you might consider investing in the Vanguard FTSE All-World Ex-US Index Fund (VEU), which has 1.03% of its total holdings in Roche's stock, to remain on comparatively safer side.