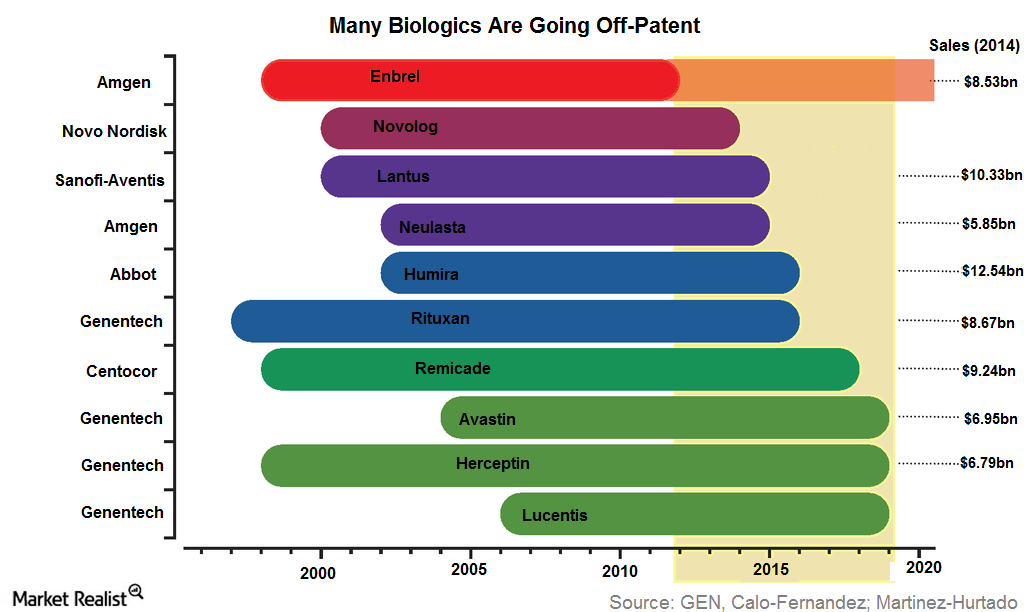 Biosimilars: Why You Can Expect Opportunity Ahead
By VanEck

Nov. 20 2020, Updated 12:31 p.m. ET
Biosimilars and Increased Complexity
Generic drug manufacturers have recently moved into more complex products. One example is biosimilars, generic copies of molecularly complex biologic drugs. Biosimilars are beginning to take a foothold in the U.S. Importantly, they are much more difficult to replicate, than regular generics, which equates to high barriers to entry. This may allow generic drug producers of biosimilars to charge higher prices (while still providing a cheaper alternative to branded biologics) and enjoy wider profit margins and increased profitability.
Article continues below advertisement
In 2014 Zarxio, a biosimilar to Amgen's Neupogen (chemotherapy drug), became the first biosimilar approved in the U.S. In Europe, the same biosimilar seized 85% of overall market share within four years of its launch. In the nearly eight years since the introduction of the first biosimilar, only three other such products have come to market. Each has a market share exceeding 15%.[1. "Biosimilars: An Emerging New Opportunity." bioRASI: The leaders in biosimilars, April, 2012, https://www.biorasi.com/wp-content/uploads/2015/03/bioRASI-Biosimilars-Presentation-04-12vw.pdf]
As seen in the following chart, biologics are expected to dominate annual sales of branded drugs losing patent protection over the next several years. The ability to offer lower-cost versions of these more complex drugs may provide generic drug producers with their next growth driver.
Market Realist – Biologics or biotherapeutics are complex, protein-based drugs that treat critical illnesses like cancer, multiple sclerosis, and rheumatoid arthritis. Unlike small-molecule drugs, biologics are made from or expressed by living cells (Source: bioRASI). This living component is why biologics are not only expensive but also almost impossible to replicate perfectly.
View Current GNRX Holdings.