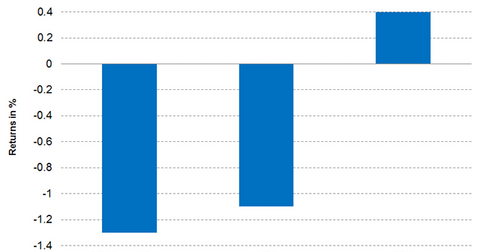 BioMarin Stock Rose on Positive Data from Cerliponase Alfa Program
By Peter Neil

Mar. 4 2016, Published 2:52 p.m. ET
XBI large caps underperform the fund
The large-cap stocks of the SPDR S&P Biotech ETF (XBI) collectively went down by 1.3% on March 3, 2016. XBI holds 11 large-cap stocks with a market cap of above $10 billion. Among the 11 large-cap stocks, nine stocks ended negatively. Abbvie (ABBV) and BioMarin Pharmaceuticals (BMRN) were the only two stocks that gave positive returns of 0.4% and 2.4%, respectively. The large-cap stocks of XBI account for nearly 19.3% of XBI's portfolio. XBI is a fund that gives equal weights to large-cap, mid-cap, and small-cap stocks.
The above graph reflects the performance of XBI large caps in comparison with XBI and the SPDR S&P 500 ETF (SPY) on March 3, 2016.
Article continues below advertisement
BioMarin moves up on positive data
BioMarin Pharmaceuticals (BMRN) went up by 2.4% on the news of positive data from the Cerliponase Alfa Program for the treatment of CLN2 disease. As per the press release, BioMarin "announced positive 48-week results from its Phase 1/2 pivotal study for Cerliponase alfa, a recombinant human tripeptidyl peptidase 1 (rhTPP1) to treat children with CLN2 disease, a form of Batten disease. CLN2 disease is a rapidly progressing, fatal neurodegenerative disease with no approved treatments, where the majority of affected children lose their ability to walk and talk by approximately six years of age."
BioMarin closed at $89.57 on March 3, 2016. It has a book value of $14.86 per share. With its current price, the stock is trading at a price-to-book value (or PBV) of ~6.0x. Its peers Abbvie (ABBV), Vertex Pharmaceuticals (VRTX), and Alexion Pharmaceuticals (ALXN) are trading at price-to-book values of 22.8x, 23.4x, and 4.0x, respectively. BioMarin has a weight of ~1.7% in XBI's portfolio.