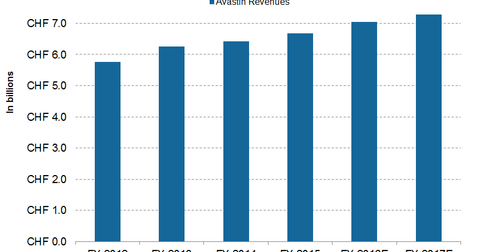 Believe It or Not: Roche's Avastin Treats Seven Types of Cancer
By Jillian Dabney

Updated
Roche and Avastin
Avastin, one of the lead drugs in Roche Holding's (RHHBY) portfolio, has been approved to treat seven different types of cancer that include advanced colorectal, breast, lung, kidney, cervical and ovarian cancer, and glioblastoma, a type of brain tumour. The drug is an anti-VEGF (vascular endothelial growth factor) that binds VEGF protein and was approved for advanced colorectal cancer in the US in 2004.
Article continues below advertisement
The drug generated ~6.7 billion swiss francs, or almost $6.8 billion, in 2015, reflecting a 9% surge. The drug recorded an 11% rise in US sales and a 5% increase in the European Union. During the second quarter of 2016, following the cost containment measure of the Japanese government, Avastin will undergo price reduction in the country. Japan accounts for 10% of Avastin's sales.
Strong uptake of the drug for ovarian and cervical cancer would drive the sales. The drug was launched for the indication of lung cancer in China. The international market growth would likely be fueled by revenues from China.
Avastin can treat AMD as an off-label drug
Avastin is used to treat AMD (age-related macular degeneration). Though the drug is not approved for that indication, its use in AMD is off-label. Roche has another drug, Lucentis, that is approved for the indication of AMD. But a single dose of Lucentis costs around $2,000, whereas Avastin, a much cheaper option, costs around $50 for a single dose. In terms of efficacy, Avastin was observed to be as good as Lucentis. This made Avastin a preferred drug by the ophthalmologists.
Approved drugs to treat AMD include Regeneron's (REGN) Eylea, Pfizer's (PFE) Macugen, and Novartis's (NVS) Visudyne. However, as the significantly cheaper option, Avastin is still the first-line treatment for AMD.
Meanwhile, in India
However, in January 2016, two Indian states halted the sale of Avastin for AMD. This followed instances of impaired vision in about 15 patients in India.
In any case, the launch of a biosimilar would result in falling sales for any lead drug, and the company might need to lower the drug price in order to remain competitive. To get exposure to Roche while controlling excessive company-specific risks, you might consider ETFs such as the Vanguard Total World Stock Index Fund (VT). Roche accounts for 0.45% of VT's total holdings.