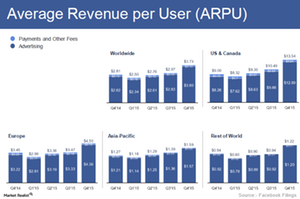 The Asian Market Provides a Huge Opportunity for Facebook
By Parker Thomas

Nov. 20 2020, Updated 4:28 p.m. ET
India is holding the second position for Facebook in terms of users
Social media giant Facebook (FB) has seen significant growth in Asia. User growth in Asia is rising much faster than in other parts of the world, according to Facebook. The number of Facebook users from Asia grew at a rate of 20% YoY (year-over-year) compared to 14% global users YoY in 4Q15. Monthly active users (or MAUs) for the Asia-Pacific region stood at 540 million compared to total MAUs of 1.6 billion.
Mark Zuckerberg said that India (EPI) is second to the United States in terms of the size of its user base. Facebook has 130 million MAUs in India, whereas Twitter (TWTR) has 142 MAUs in India.
Currently, Facebook has more than 3 million active advertisers globally, a rise of 50% YoY. During the recent quarter, Facebook's average revenue per user (or ARPU) came in at $1.6 for Asia compared to $13.5 in the United States and Canada.
Article continues below advertisement
Emerging market
Although Asia has a lower ARPU rate than the United States and Canada, the former has more growth potential than the latter due to its large population. Moreover, MAU growth from the United States and Canada has become saturated, as very few users remain untapped in this region compared to other parts of the world.
Dan Neary, vice president of Facebook, says that revenue from Asia has been rising at a rate of 25% as organizations and businesses learn the value of advertising over the Facebook platform. The company is putting all its efforts toward growing connectivity in Asia.
However, the company failed in its attempt to bring Free Basics to India due to the net neutrality principle, which advocates the "equal treatment of all traffic on the Internet." Google (GOOG) is also trying to grow Internet access in India with its Project Loon.
Facebook constitutes 4.3% of the PowerShares QQQ, Series 1 ETF (QQQ).