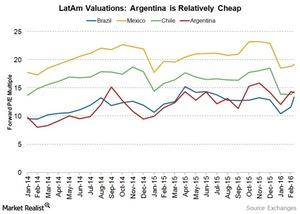 Argentina Offers Higher Earnings at Lower Prices
By Surbhi Jain

Updated
Market uncertainty has increased
When an uncertain future stands before you, investor preferences tend to tilt toward holding on to cash rather than investing.
Currently, rising deflationary pressures and low demand conditions in most developed (EFA) (VEA) and emerging markets (EEM) (VWO) are forcing investors to think and rethink their current and future investments. While we may not see many takers for pricey deals, who wouldn't be tempted by an investment that seems to offer higher earnings at lower prices?
Article continues below advertisement
Higher earnings, lower prices
Previously, we compared forward valuations across Latin American economies. On the price front, Argentina proved to be relatively cheaper than two out of three of its peers.
On the earnings front, Argentina's growth remains unmatched compared to its peers. Over the past two years, we've seen Argentina's forward EPS (earnings per share) rise by over 50% compared to -27% in Brazil, a meager 1% in Mexico (EWW), and 5.6% in Chile (ECH).
Current valuations, however, remain a bit expensive for this Latin American economy. The Global X MSCI Argentina ETF (ARGT) is currently trading at a price-to-earnings ratio of 17x, compared to Brazil (EWZ) at 11x and Chile (ECH) at 14x.
Latin America (ILF) definitely seems attractive at current. While Brazil is available for cheap, Mexico offers quality for its price. Chile, which is showing signs of reversion, is available at relatively cheaper prices, and Argentina is offering higher earnings at lower prices.
There remains one prominent Latin American economy that stands on the brink of downfall. Investors remain wary: Venezuela is on its way to a default.