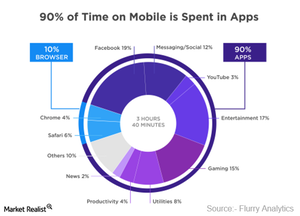 App Streaming: Will Google Make Users Spend More Time Searching?
By Parker Thomas

Updated
Users spent 90% of time using app
The number of search queries from mobile devices has surpassed the number of search queries raised from PCs. According to the report from eMarketer, the US mobile search market could grow from $9 billion in 2014 to $28 billion in 2019 at a CAGR (compound annual growth rate) of 27%.
Google's (GOOG) Android dominates the global smartphone operating system market, with a share of 81.1% compared to Apple's (AAPL) iOS share of 15.2%, according to IDC.
Article continues below advertisement
Despite having the majority share in the smartphone OS market, Google (GOOGL) has failed in its attempt to keep users engaged with mobile searching. From the chart above, we can see that users spent 90% of their time in apps compared to 10% in browsers. The users' engagement with the Chrome browser remains the lowest at 4%. Moreover, social media giants Facebook (FB) constitutes the majority of users' engagement at 19%, followed by entertainment at 17%.
New avenue to generate ad dollars
To deal with this situation, Google will roll out its new feature—app-only content—that can integrate with its mobile search engine. This new feature will allow users to run Android apps without installing them on their smartphones.
In 2015, Google acquired Agawi, which specializes in streaming mobile apps over the web. Agawi allows users to preview an app before downloading it. For instance, if a user fires a query on the Google Search app for "Hotel in Chicago," it will list every hotel nearby, along with a streaming app to get real-time room availability. Moreover, the new feature will enable users to do away with searching and installing a specific app using the Play Store.
Google could make users depend on mobile searches and spend more time interacting with the web, which has lost its relevance over the period. By rolling out this new feature, the company can monitor users' activities within the apps, which in turn raise new opportunities for ad dollars by targeting user-specific ads. In fact, Google can monetize the service by simply promoting apps for streaming inside the Google Search app.
Alphabet (GOOG) constitutes 4.8% of the PowerShares QQQ ETF (QQQ).