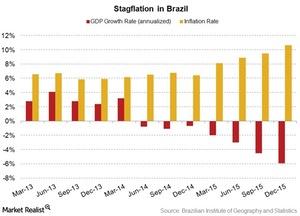 An Analysis of Brazil's Plan to Alter Its Growth Model
By Surbhi Jain

Mar. 16 2016, Updated 2:58 p.m. ET
In its third year of recession
Brazil is in stagflation, which means that its growth is stagnant. Inflation in the economy continues to soar. It's at 10.4% despite the central bank's several attempts at interest rate hikes. As a consequence, the Selic rate (short-term interest rate) now stands at 14.25%.
The nation has entered its third year of recession. The economy has been declining on account of the commodity price slide, the Petrobras (PBR) scandal involving Dilma Rousseff's government, and rampant inflation. For some time now, the economy has been characterized by low growth, high unemployment levels, and a rising inflation rate.
Article continues below advertisement
Commodity demand, price slide have hurt Brazil
The commodity price slump has only catalyzed the downfall. Brazil's commodity exports have also suffered on account of the slowdown in China. Brazil's growth model has largely been export-driven, with commodities such as iron ore and crude oil among its top exports.
Commodity producers such as Petrobras, Vale (VALE), Gerdau (GGB), and Companhia Siderúrgica Nacional (SID) have been hurt badly. Given the falling competitiveness of its commodity exports, Brazil's economy is attempting to diversify away from its economic model.
Also, the Brazilian real has been depreciating. Although the depreciating currency should help to improve the competitiveness of Brazilian products in the international and domestic markets, the flood of Chinese products into its territory have turned the tables for Brazil. Brazil may have to resort to using the World Trade Organization's rules to impose anti-dumping measures against China for shipping exports through third countries.
Brazil's economic deterioration is attributable to:
the slowdown in commodity demand from China, its main export destination
the lack of global competitiveness as a result of Mercosur
While the first two factors are beyond Brazil's control, the economy can certainly do something about improving on the third.