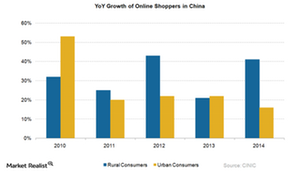 How Alibaba Is Working to Build Its Rural Customer Base
By Parker Thomas

Updated
China's demographics
According to a report from the Wall Street Journal, e-commerce giants in China (FXI) like Alibaba Group Holding (BABA) and JD.com (JD) are now focusing on building a customer base in the rural regions of China. The objective is to reach out to the untouched user base in the rural areas and to boost online sales, which in turn will generate more revenues.
Approximately half of China's population is living in rural areas, and Alibaba is exploring new ways to reach out to more consumers in these areas. So far, the company has expanded its rural service centers to 12,000 villages in China (FXI). Moreover, Alibaba (BABA) is planning to sell goods from urban areas to villages, and at the same time help farmers to sell products in the urban areas.
Article continues below advertisement
China has around 600,000 rural villages, and most of these villages have a population of less than 1,000, which indicates the rural demographic is highly diversified and untapped. In the past year, the company made good progress in building a country-wide network that covered the major villages in China.
Internet penetration in rural areas
In 2014, many villages in China were introduced to Internet-enabled smartphones via government programs, and many consumers had their first experiences with online shopping. According to a report from the CINIC (China Internet Network Information Center), the number of online shoppers grew at a rate of 41% in rural regions in 2014 compared to the 17% growth rate of online customers in the urban areas.
The report also says the number of Internet users in China reached 668 million in June 2015. This accounts for 48.8% of China's total population. The Internet penetration rate in urban areas is around 64% while the penetration rate in the rural region is only 30%.
According to a Wall Street Journal report, Alibaba is planning to invest $1.5 billion in additional distribution centers in China's urban regions. The company also has plans to create around 100,000 more product delivery points in rural China and is expected to achieve this in the next three to five years.
eBay (EBAY) and Microsoft (MSFT) constitute 0.65% and 7.4% of the PowerShares QQQ (QQQ), respectively.