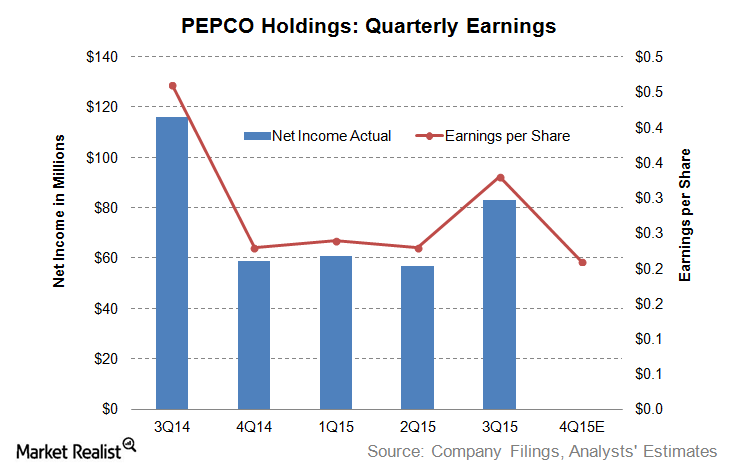 Can POM's Shareholders Overlook 4Q15 ahead of Its Merger Hearing?
By Vineet Kulkarni

Feb. 19 2016, Updated 4:54 p.m. ET
Adverse impact of weather
Pepco Holdings (POM) is expected to report its 4Q15 earnings on February 26, 2016. Pepco serves nearly 2 million customers in Delaware, Maryland, and New Jersey. Pepco may have suffered from unfavorable weather conditions during the quarter, as many other utilities (VPU) did.
According to analysts' consensus estimate, Pepco is expected to report earnings of $0.21 per share in 4Q15 against earnings per share of $0.23 in 4Q14. Analysts have not given any estimate for net income in 4Q15.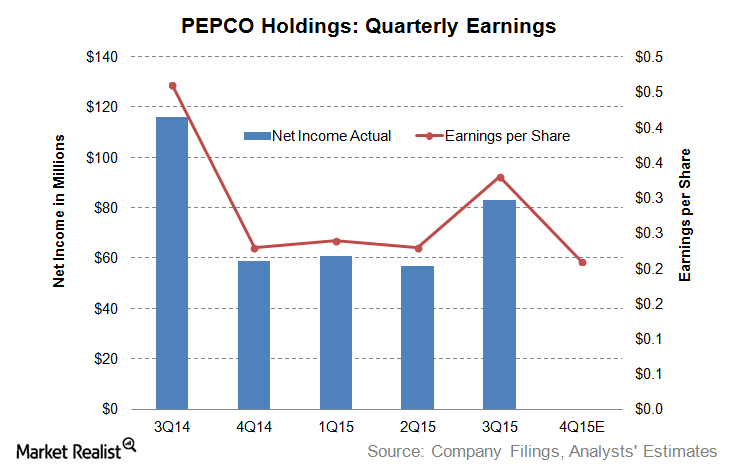 Article continues below advertisement
Earnings drivers
Pepco's earnings have been negatively affected by increased operations and maintenance costs in the last few quarters. These higher operational costs were mainly related to employee-related expenses and the company's implementation of a new customer information system.
Favorable weather in 3Q15 supported earnings, which partially offset increased costs. The situation may have changed in 4Q15, as POM's operational region experienced warmer temperatures during the quarter.
Exelon–Pepco merger
The long-delayed Pepco Holdings–Exelon (EXC) merger may get clearance soon. This proposed $6.8 billion merger has been approved by the Federal Energy Regulatory Commission but denied by the Public Service Commission in the District of Columbia.
Exelon's management seems optimistic about the approval, as re-voting is scheduled to take place in early March 2016. The combined entity is expected to serve nearly 10 million customers, making it the largest utility in the United States by customer base.
Currently, Duke Energy (DUK) is the largest utility (JXI) by customer base, serving nearly 8 million customers.