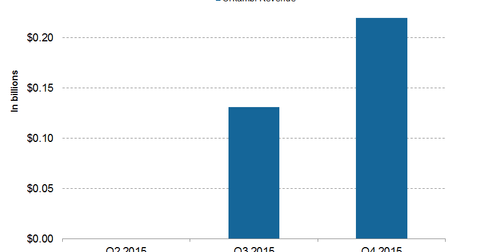 What's Vertex's Label Expansion Strategy for Orkambi?
By Jillian Dabney

Updated
Orkambi: Another key product for cystic fibrosis
In November 2015, Vertex Pharmaceuticals' (VRTX) Orkambi (lumacaftor and ivacaftor) received approval from the European Commission to treat patients who are 12 years and older with two copies of the F508del mutation. Currently, there are 20,500 patients in the United States and Europe who are eligible for the treatment. For more information on Orkambi, please refer to Orkambi: Recent Addition to the Vertex Portfolio.
The success of Orkambi in Europe mainly depends on obtaining and maintaining government reimbursements. Germany would be a major market for Orkambi after the United States. There are ~2,500 patients in Germany for the indication.
Article continues below advertisement
Vertex Pharmaceuticals (VRTX) has anticipated recognizing revenues from the sale of the drug in Germany in 2016. The company plans to reach peak sales in the country within 12 to 18 months of its launch. In Europe, country-by-country discussion is going on, which can result in delayed revenue recognition from Europe. During 2015, Orkambi earned $351 million.
Label expansion
Recently, Vertex Pharmaceuticals submitted a regulatory application for approval of Orkambi in Australia. It completed its Phase 3 clinical trial in patients with cystic fibrosis for those who are six to 11 years of age and are homozygous for the F508del mutation. Based on the data, Vertex plans to file an sNDA (supplemental New Drug Application) with the FDA (U.S. Food and Drug Administration).
The higher price of Orkambi is in line with the strategy of peers such as Alexion Pharmaceuticals (ALXN), BioMarin (BMRN), and Amgen (AMGN).
It's often risky to directly invest in a biotech company, as any news release for the success or failure of a drug results in volatility in the stock price. So to remain on the safer side, investors can choose to invest in the First Trust NYSE Arca Biotech ETF (FBT), which holds 3.2% of its total holdings in Vertex Pharmaceuticals stock.