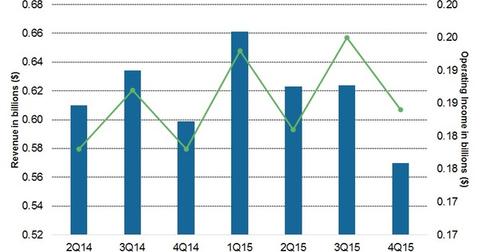 Did Volume Gains in China Help Colgate's Asia Segment in 4Q15?
By Penny Morgan

Updated
Asia segment's revenue
Colgate's (CL) Asia segment saw its net revenue fell 4.8% to $0.6 billion in 4Q15. The decrease in revenue was primarily due to the negative foreign exchange impact and lower pricing, which were partially offset by a unit volume increase.
Article continues below advertisement
Operating and gross profit
Volume gains were led by the Greater China region and Thailand. Organic sales in Asia rose 2% in 4Q15. Operating profit also rose 3% to $0.2 billion, or 260 basis points, to 32.3% of net sales. The increase in operating profit as a percentage of net sales was due to an increase in gross profit and a decrease in SG&A expenses as a result of decreased advertising investment.
The Asia segment's gross profit rose due to cost savings from the company's funding-the-growth initiatives, which were partially offset by higher costs.
Market share gains in India
Colgate continued its toothpaste leadership throughout Asia. For example, in India, Colgate's toothpaste share was up to 54.7%, driven by Colgate Sensitive Pro-Relief Repair and Prevent and a relaunch of the rest of its sensitivity product line. However, elsewhere in the region, toothpaste shares were soft due to competition from Oral-B (PG), but market shares for 4Q15 increased in China, Thailand, the Philippines, Taiwan, and Pakistan.
Other products that contributed to volume growth include Colgate Optic White Toothbrush + Built-In Whitening Pen, Colgate Plax Bamboo Charcoal Mint mouthwash, and Palmolive Naturals shampoo and conditioner.
Focus on regional innovation
Colgate plans to focus on regional innovation and product localization depending on the market. For example, in China, Colgate plans to launch Colgate Naturals toothpaste with five variants, as natural ingredients resonate very strongly with Chinese consumers.
Competitors Unilever (UL) and Kimberly-Clark (KMB) also depend on innovation and pricing to capture opportunities in emerging markets. For example, Unilever is constantly changing the presentation, bottle size, and pricing of its AXE male grooming product depending on the geography.
CL makes up 0.3%[1. Updated on February 1, 2016] of the iShares Dow Jones U.S. ETF (IYY).