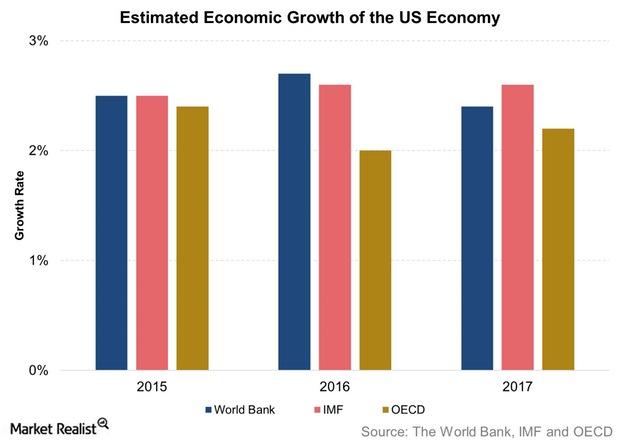 US Economic Growth Revised Upward, but Will Growth Continue?
By David Ashworth

Nov. 20 2020, Updated 12:13 p.m. ET
US economic growth
The BEA (U.S. Bureau of Economic Analysis) released the second of three estimates for US economic growth for 4Q15 on February 26, 2016. According to the release, US economic growth was revised upward to a 1.0% pace from a 0.7% pace reported in the preliminary estimate. The economy rose by 2.0% in 3Q15.
Consumer spending, residential-fixed investments, and federal government spending were primarily responsible for the rise, though some growth was offset by negative contributions from exports, business- and nonresidential-fixed investments, and state and local government spending, among other factors.
Though the pace was revised upward from the preliminary estimate, it slowed in the third quarter, primarily due to the slower pace of consumer spending and a fall in business-fixed investments.
A fall in consumer spending can be hurtful for luxury retailers such as Burberry Group (BURBY), Louis Vuitton (LVMUY), Prada (PRDSY), and Michael Kors Holdings (KORS), among others.
Article continues below advertisement
Growth estimates
Three major multilateral institutions—the World Bank, the IMF (International Monetary Fund), and the OECD (Organisation for Economic Co-operation and Development)—released their respective economic projections not too long ago. The first two released their outlooks in January 2016, while the OECD released its outlook on February 18.
All three expected the US economy to slow from earlier estimates in 2016. While the World Bank expected US economic growth to remain unchanged in 2017 compared to its previous estimate, the other two institutions expected growth to slow that year as well compared to their respective earlier estimates. The OECD was the most conservative in terms of its economic growth projection for the United States.
Impact on mutual fund investors
A slowing US economy is not good for equity investors. However, for bond mutual fund investors (AHITX) (PTTAX), it can be beneficial, as it may not only delay rate hikes, but also cause yields to smooth, giving more corporates the opportunity to enter the primary market to issue bonds and raise money. This will also help business-fixed investments.
We'll continue to research and present fund-specific and macroeconomic analysis issues pertaining to mutual fund investments on our Mutual Funds page.