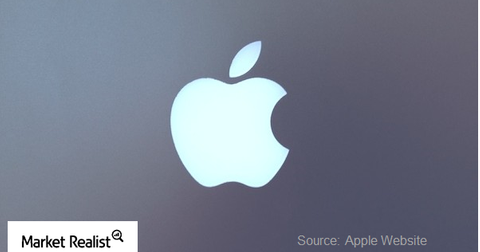 Why Tim Cook Says Is Apple Committed to Safeguarding Data
By Adam Rogers

Updated
The FBI wants Apple's help to crack the Bernardino shooter's iPhone
Last week, the FBI demanded help from Apple (AAPL) in cracking the iPhone of Syed Farook, one of the San Bernardino shooters. The FBI has asked Apple to modify its iOS 9 on a single iPhone, removing the limits on passcode attempts. This feature prevents hackers from trying to unlock phones, as the iOS will delete the phone's data after so many invalid attempts to enter the correct passcode.
"We simply want the chance, with a search warrant, to try to guess the terrorist's passcode without the phone essentially self-destructing and without it taking a decade to guess correctly. That's it. We don't want to break anyone's encryption or set a master key loose on the land," stated FBI director James Comey.
Article continues below advertisement
A terrorist's iPhone
The iPhone 5C in question had belonged to Syed Farook, one of two terrorists who killed 14 people in San Bernardino on December 2, 2015. Last Tuesday, Judge Sheri Pym of the Central District of California in Los Angeles ordered Apple to provide "reasonable technical assistance" to investigators looking to unlock data on the iPhone.
Apple has, however, said that customers expect it and other technology companies to do everything in their power to protect their personal information and that Apple is, therefore, committed to safeguarding personal data. Google (GOOG), Facebook (FB), and Twitter (TWTR) have supported Apple in its refusal.
What ETF could be affected?
Apple constitutes 16% of the Technology Select Sector SPDR Fund (XLK). Other top stocks in XLK include Microsoft, Google, and Facebook, which account for 10%, 5.1%, and 5.6% or XLK, respectively.