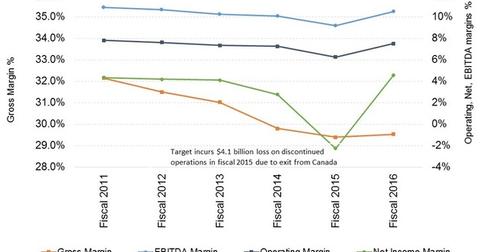 Target's Profitability and Margins Improved, Surpassing Goals
By Phalguni Soni

Nov. 22 2019, Updated 6:49 a.m. ET
Analyzing Target's margin performance in fiscal 2016
Target (TGT) earned an EBITDA (earnings before interest, taxes, depreciation, and amortization) of $7.3 billion in fiscal 2016, up by 7.3% year-over-year. Its EBITDA in fiscal 4Q16 came in at $2.1 billion, up by 10.6% year-over-year.
Earnings growth outpaced Target's (TGT) revenue growth due to its profitability rose year-over-year in fiscal 2016. The retailer's (XLP) EBITDA margin came in at 9.9% in fiscal 2016, compared to 9.4% in fiscal 2015. Other profitability measures also improved YoY:
gross margin by 0.1% to 29.5%
EBIT margin by 0.4% to 6.9%
Article continues below advertisement
In Target's fiscal fourth quarter of 2016, however, its EBITDA margins were flat on a year-over-year basis at 9.8%. Despite generating savings on operating costs as part of a multiyear plan, Target's profitability was lower at the gross margin level in the quarter. The company's gross margin contracted by about 60 basis points year-over-year to 27.9%, in fiscal 4Q16.
Target's performance versus stated goals
At its 2015 Investor Day, Target (TGT) looked to generate $2 billion in cost savings over several years through productivity enhancements across the organization. The company had also targeted its EBITDA margin expansion of 20–30 basis points in fiscal 2016.
In fiscal 2016, the company overshot its goals, with EBITDA margin improvement of 50 basis points. The improvement comes largely due to lower selling, general, and administrative (or SG&A) costs via cost control. Target's SG&A expense rate was down by 0.4% on a year-over-year basis to 19.6% in fiscal 2016.
Comparative analysis
Target's EBITDA margin of 9.9% in fiscal 2016 compares to:
Target constitutes 0.40% of the portfolio holdings in the iShares S&P 100 ETF (OEF).
Target also overshot expectations for earnings per share (or EPS) growth in the fiscal fourth quarter and fiscal 2016. We'll explore this in the next article.