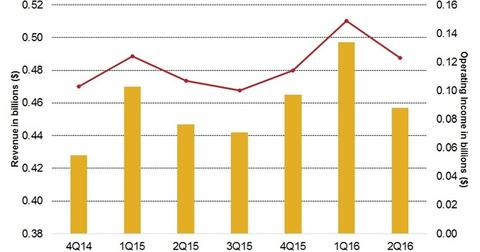 How Clorox Saw Strong Growth in Cleaning—despite Bleach Share Dip in Fiscal 2Q16
By Penny Morgan

Updated
Segmental overview
The Clorox Company (CLX), or Clorox, is a leading manufacturer and marketer of consumer and professional products including Pine-Sol, Liquid-Plumr, Hidden Valley, and Glad. The company operates through the following four strategic segments:
Cleaning
Household
Lifestyle
International
Article continues below advertisement
Cleaning segment's fiscal 2Q16 revenue
Clorox's Cleaning segment's fiscal 2Q16 volumes increased by 2%, and sales increased by 2.2%, largely due to higher shipments of Home Care products. This included the continued strength of Clorox disinfecting wipes, which delivered double-digit growth despite the fairly muted cold and flu season. Cleaning segment's revenue came in at $0.5 billion.
Also, revenue was driven in part by Clorox's most recent price increase for Clorox bleach, which happened in February of 2015. Despite the overall bleach share dip in the quarter, strong share growth came in for Clorox's Splash-Less product line compared to Procter & Gamble's (PG) and Church & Dwight's (CHD) bleach products. However, the decline in volume from Professional Products was partially offset by increasing Ebola and Enterovirus concerns.
Operating income
Clorox's Cleaning segment's fiscal 2Q16 operating income increased by 14.9% to $0.1 billion. The increase in operating income reflected higher sales, and the benefits of favorable commodity costs and cost savings were partially offset by higher manufacturing and logistics costs.
Growth platform
The company's strategy is to build its growth platform. For example, Clorox shipped three new Clorox ScrubSingles items in December, Heavy Duty, Decide-A-Size, and Multi-Purpose, building on previously launched Clorox disinfecting wipes with Micro-Scrubbers, which have done particularly well in the market.
Like peers Kimberly-Clark (KMB) and Colgate-Palmolive (CL), Clorox also aims to drive growth with new sizes and dedicated advertising for products like Splash-Less bleach, a trade-up from Clorox's regular products.
CLX has exposure in the PowerShares S&P 500 High-Quality Portfolio (SPHQ) with 0.8% of the total weight of the portfolio as of February 8, 2016.
Now let's move to Clorox's household segment.