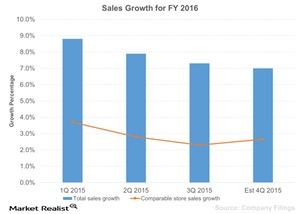 Strong Fundamental Growth: The Backbone of Dollar General Stock
By Mark Jonker

Updated
Revenue growth
Dollar General (DG) (XLY) has been highly consistent growing its top line with high single-digit growth. So far this year, DG has averaged 8.0% growth. In our current macroeconomic situation, this can be considered highly positive for the company's future. Like its closest competitor Dollar Tree (DLTR), Dollar General (DG) has been driving its growth both organically and inorganically. According to industry experts, this is the right combination to move forward for any retailer.
Article continues below advertisement
Comparable store sales growth
Comparable store sales growth is the most important driver of sales for any brick-and-mortar retailer, and so it is for Dollar General (DG). The company has been consistently achieving its target in terms of organic growth. It's been keeping pace with the industry average of around 3.0% growth. Dollar Tree (DLTR), Dollar General's (DG) closest peer, had comparable store sales growth of 2.1% in its Dollar Tree segment in 3Q15. Other competitors such as Walmart (WMT) and Costco (COST) had growths of 1.4% and 6.0%, respectively.
Inorganic growth
Inorganic growth refers to growth from any other source except the one that was available in the comparative period nearly a year before. In the brick-and-mortar retail sector, the most common inorganic growth is achieved from opening new stores or increasing square footage.
Dollar General (DG) has been expanding its footprint in North America. The company has been easily growing its average sales area by 7.0%. It's been maintaining a maturing rate of 80% from its newly opened stores, which signifies its penetrating capability.
In the next article, we'll have a look at how these fundamentals have affected Dollar General stock.