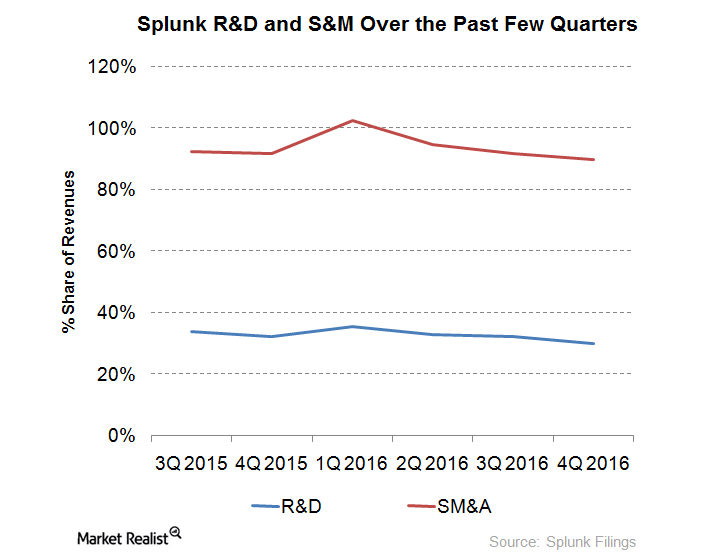 Is Splunk's Lack of Profitability a Concern?
By Anne Shields

Mar. 5 2016, Updated 11:06 a.m. ET
Performance of Splunk's operating segments
Previously in the series, we discussed Splunk's (SPLK) recently announced fiscal 4Q16 and 2016 results as well as the factors that helped the company to record double-digit growth in its revenues. In this article, we'll see how its operating segments fared.
Splunk's license revenues, which consist of perpetual licenses that are instrumental in driving future services revenues, contributed approximately 60% towards overall revenues in fiscal 2016, as the below chart shows. In fiscal 4Q16 and 2016, Splunk's license revenues stood at $141.4 million and $405.4 million, respectively. This represents an increase of 44% and 43%, respectively, on a YoY basis. However, the GAAP operating loss stood at $73 million compared to $47 million in fiscal 3Q15. The remaining 40% contribution towards overall revenues came from maintenance and services. In fiscal 4Q16 and 2016, these segments stood at $78.6 million and $263 million, respectively.

Article continues below advertisement
Splunk's lack of profit remains a concern
After discussing double-digit growth in Splunk's revenues, it's important to look at whether this top-line growth is leading to any expansion in the company's margins. As the above chart shows, Splunk's increased investments in R&D (research and development) coupled with higher sales and marketing (or S&M) and general and administrative (or G&A) expenses leave little space for any profitability. On a GAAP basis, Splunk reported losses of $79.3 million and $278.7 million in fiscal 4Q16 and 2016, respectively.
Realizing how much big data can offer in terms of growth, leading technology players like Microsoft (MSFT), Amazon (AMZN), IBM (IBM), and Oracle (ORCL) are flocking towards it. This is bound to heat up the competition for Splunk, which translates to more pressure on margins.
Investors who want to gain exposure to Splunk can consider investing in the iShares Russell 1000 Growth ETF (IWF). IWF has an exposure of ~94% to application software. It invests ~0.05% of its holdings in Splunk.