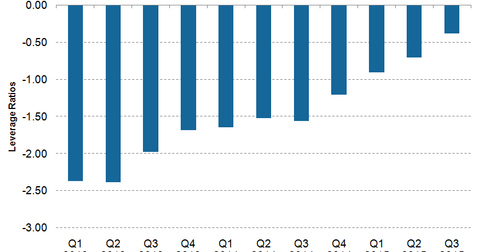 Spirit Airlines' Increasing Debt: More Good than Bad?
By Ally Schmidt

Updated
Rising debt
Until 4Q14, Spirit Airlines (SAVE) had negligible or no debt on its balance sheet. At this time of record profitability for airlines, where most airlines have tried to strengthen their balance sheets by reducing debt, Spirit Airlines has increased its debt.
This may be good news for Spirit Airlines' investors. Companies that are underleveraged may be punished by markets. This is due to a high cost of capital because the companies do not take advantage of the cheaper cost of capital that comes with debt, especially as interest rates are at all-time lows.
Article continues below advertisement
As a result of its increasing debt, Spirit Airlines' debt-to-EBITDA ratio increased from 0.72x at the start of 2015 to 1.0x at the end of 3Q15. This is still lower than most of its peers. United Airlines' (UAL) leverage ratio for 3Q15 stands at 1.87x, American Airlines' (AAL) leverage ratio is 2.74x, Alaska Airlines' leverage ratio is 0.44x, and Delta Air Lines' (DAL) leverage ratio is 1.24x.
Regional players also have higher debt than Spirit Airlines, with Allegiant Travel's (ALGT) debt-to-EBITDA ratio at 1.63x and JetBlue Airways' (JBLU) ratio at 1.42x. The only exception is Southwest Airlines (LUV), with a debt-to-EBITDA ratio of 0.66x.
Investors can gain exposure to airline stocks by investing in the iShares Transportation Average ETF (IYT), which invests ~24% of its portfolio in airlines.
Cash flows
Spirit Airlines' (SAVE) increasing debt should not be a concern to investors yet. Another fact that provides comfort is Spirit Airlines' cash position. At the end of September 2015, the airline had $540 million in cash and investments on its balance sheet. This is higher than its debt, indicating SAVE's ability to pay off its debt comfortably.
Outlook
Although Spirit Airlines' (SAVE) leverage is currently not a concern, it is still important for investors to track SAVE's leverage.
The airline industry's fundamentals have improved tremendously and margins are expected to have reached a peak. If margins decline as analysts estimate, it would mean reduced cash flows, making it difficult to make interest payments and leaving little or nothing on the table for investors.
On the other hand, if Spirit Airlines is able to maintain this balance between debt and cash, it would put the airline in a much better position than its peers that carry significant debt.