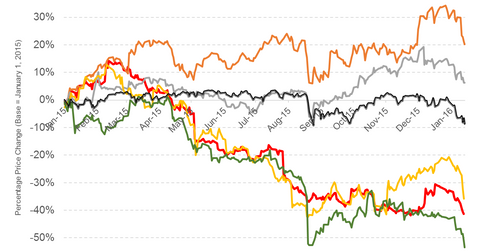 Whole Foods' Share Market Performance—among Other 'Farmers' Failing Investors
By Sonya Bells

Updated
Before analyzing Whole Foods Market's (WFM) past performance and evaluating its future outlook, we'll touch on the company's stock market performance and compare it with the two other important organic sector players—specifically, Sprouts Farmers Market and The Fresh Market (TFM). We'll also include The Kroger Company (KR) and Costco Wholesale Corporation (COST) in our discussion, as these companies are increasingly wooing customers by offering quality organic products at competitive prices. Kroger's Simple Truth brand is currently the largest natural food brand in the US, while Costco is the biggest organic food seller (only organic—natural foods are not included here) in the US.
Article continues below advertisement
Stock returns of the three organic players
The performance of the three "Farmers" (SFM, WFM, TFM) has been quite disappointing during 2015. While Whole Foods lost 33% during the year, Sprouts Farmers Market (SFM) closed 25% lower despite good financial performance. The Fresh Market was the worst performer, losing around 40% of its stock value during the year.
WFM's stock traded around $50 at the beginning of the year, but the stock lost 30% during the year and closed at $33. Fiscal 2016 has not been a good year either. The company is currently trading at its 52-week low—at $28.6 on February 3, 2015.
Stock returns of Kroger and Costco
While organic and natural food segment players disappointed their investors, Kroger (KR) and Costco (COST), on the other hand, outperformed the S&P 500 Index (down 1% during 2015) and gained more than 30% and 13% at the close of 2015. Kroger's and Costco's increasing organic offerings have taken away market share from Whole Foods and The Fresh Market. While Kroger and Costco are larger and more diversified companies, however, the impact of their growing organic share in total sales is becoming visible—at least in the case of Kroger. The company had recently announced (in October 2015) that its natural and organic food products accounted for $11 billion in sales during the last twelve months.
Whole Foods (WFM), Kroger (KR), and Sprouts (SFM), The Fresh Market (TFM), and Costco (COST) have exposure in the Fidelity MSCI Consumer Staples Index ETF (FSTA), together accounting for 6.2% of the index's total weight.
Continue to the next part for a look at Whole Foods' latest earnings update.