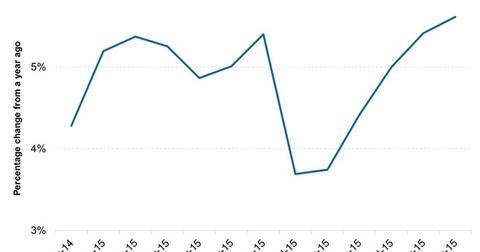 Reserve Bank of India Awaits More Inflation Developments
By David Ashworth

Updated
India's consumer price index rose
The RBI's (Reserve Bank of India) primary gauge of measuring inflation is the CPI (consumer price index). In India, the WPI (wholesale price index) is another measure of inflation. The WPI is also important. To learn more about these measures of inflation, read India's different inflation measures—WPI versus CPI.
There are three groups in which inflation data are released monthly—rural, urban, and combined. India's CPI inflation—combined—slowed to a 3.3% pace in November 2014 from 8.7% in January 2014. The main reason for the fall in inflation was the sharp decline in crude oil prices. Although the decline hammered oil companies' stocks like Kinder Morgan (KMI), BP (BP), Statoil ASA (STO), and Total S.A. (TOT) it was good for the Indian government's finances.
Among India-focused mutual funds, the ALPS|Kotak India Growth Fund – Class A (INDAX) has the highest exposure to the energy sector.
Article continues below advertisement
The pace of inflation rose from December 2014 and remained, for the most part, above the 5% mark until June 2015. In August, it fell below 4%. This gave the RBI room to reduce the repo rate. After the reduction in September, inflation continued to rise. It was 5.6% in December 2015—the highest in over a year. The RBI didn't expect the rise. It was mainly due to an unfavorable base effect.
Expected decision
The RBI aimed to contain inflation around the 6% mark by January 2016. Apart from an unfavorable base effect, a rise in food prices, especially for pulses, was also responsible for the rise in inflation. The RBI noted that even after deficient monsoon rains, cereal prices only rose moderately. This pointed to efficient supply management by the government. As a result, the decision to keep the repo rate unchanged was a surprise.
In the next part, we'll discuss the path that the RBI sees for CPI inflation going forward and the associated risks.